Karachi Golf Club (KGC)
Karachi Golf Club started as an affiliate of Sindh Club in 1888 and was registered as an independent Club in 1891 on pattern of Bombay Golf Club. The first Club house resembled a wooden shack and was located where the Plaza Hotel stood on E. I. Lines near the present Cantonment, Railway Station. During the post partition period there were large number of refugees who were camped in the Golf Course grounds on men's links near Cantonment, Railway Station.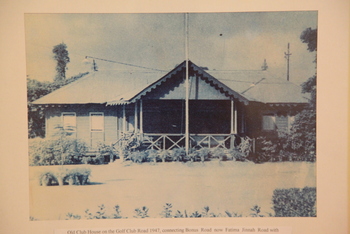 Then there was also a compulsion from the Government to make a School, a wireless station and Jinnah hospital in the area so this was a caution signal for the club to plan ahead and move the Course elsewhere. As a consequence the Golf Course had to be relocated and therefore in 1953 an alternate land measuring 440 acres around a neglected RAF 9 Hole Course on Drigh Road Near Karsaz was leased from Ministry of Defence. Col. Iskandar Mirza Secretary Defence sanctioned the lease. On this land, a 6322 yards, Par-71, 18 hole sandy Course was developed and inaugurated by Patron-in-Chief of Pakistan Golf Union, Field Marshal Muhammad Ayub Khan in 1959. This new location was ranked as a classic desert Course with barren and sandy fairways and chocolate Greens. The whole area was doted with numerous cactus and akasia (keekar) trees, and the Course had undulations, water hazards, reeds and marshy areas with typical flora / fauna. Because of these unique features the Course was rated amongst the 100 interesting Golf Courses in the world.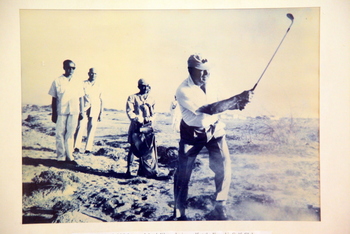 Golf Events
The first Golf tournament to have been played was Pritchard Cup in 1888, and marked the formal opening of the Club. The Pakistan Masters Golf Championship was hosted at Karachi Golf Club five times in years 1995, 1996 1997, 2006 and 2007. Now the Pakistan Open Golf Championships and Sponsor Tournaments are held regularly.
Facilities
The Club has a Golf Academy, a Driving range, an International standard Pro Shop, a Gymnasium; Gents cloak room and Ladies lounge besides Bag locker facilities. There are also air-conditioned lounges and open-air refreshment areas.
To enjoy an exciting round of Golf, the Golf equipment and Golf Carts can be hired or purchased from the Pro Shop. The Club also offers services of Caddies. The Professionals at the Golf Club can be hired for Coaching and in addition there is a Par-3, nine hole Course for short game and practice.
ENTRANCE FEES AND SUBSCRIPTIONS
1. Permanent Members
Upon completion of 5 years continuous membership, a member may be invited by the committee for permanent membership of the club. Recommendation for selection of such members shall be made by the Balloting Committee. An additional payment of 5% of the entrance fee of temporary members prevalent at that time shall be payable by such members. Permanent members of the club shall pay a monthly subscription of Rs. 1610/-. Monthly subscription of permanent retired Naval Officers (as per old rule) be reduced by 50 percent, this is also applicable to retired officers over 60 years of age.
The Committee would consider demonstrable use of the club as evident by charges accrued from availing of club services / facilities i.e. catering, bridge, fitness center and caddies / carts. In addition contributions made towards betterment of the club or the game of golf may be considered. This is merely to determine the interest, the member has taken in the club activities". Additionally, it would be mandatory for the candidate to be in possession of a valid Golfing Handicap.
2. Lady Members
Any lady shall be eligible for election as temporary member in the same manner as that of a gentleman, except that on payment of 50 percent of entrance fees and half, monthly subscription fees prevalent at that time. However, if at any time the husband of such lady desires to utilize the sports facilities of the club, he shall have to apply for temporary membership of the club in his own right and he may be considered on priority in case membership to the club is closed at that time. No lady shall be eligible for election for a period of six months, whose husband has been rejected as candidate for membership to the club. Election of a lady member shall be posted on the notice board of the club.
3. Temporary Members
Upon election as temporary member, a member shall have all the privileges of a permanent member except that he shall not be able to propose or second a candidate for election, or vote at any General Meetings or Extraordinary General Meetings, or be elected to the Committee, or serve on the Balloting Committee. They shall have no right or claim upon the assets of the club properties after dissolution. The entrance fee for such members shall be Rs. 1,200,000/- and monthly subscription shall be Rs. 2415/-.
In the case of death of a member as a courtesy to the said member, his widow and children below the age of 25 years may be invited by the Managing Committee to use the club facilities on payments of nominal charges us prescribed by the committee. Widow shall be exempted from payment of any subscription.
All foreigners elected as temporary members shall pay a caution deposit amount of Rs. 10,000.00. Election of such members shall be posted on the club notice board.
4. Honorary Members
In exceptional cases the committee may elect as member, a person of international repute as honorary member of the club without payment of the entrance fee or monthly subscription fees as prescribed in rule 5. However, a person so elected shall pay the annual subscription fee. The total number of such members shall not exceed 1 percent of the total strength of permanent members and they shall have all the privileges of temporary members and shall be elected in the same manner as temporary members. The notice of such election shall be posted on the notice board. Member's dependent children coming from abroad on a short visit may be given honorary membership for 8 weeks on payment of annual subscription as prescribed in rule 5 and other relevant charges, as specified by the Managing Committee from time to time.
5. Patron Members
The committee at its discretion may invite as ex-officio members, the following personages; the President of Pakistan, Prime Minister of Pakistan, Governor of Sindh, Chief Minister of Sindh and President of Pakistan Golf Federation. Such members shall not pay entrance fees or subscription fees. The acceptance of any such invitation shall be posted on the club's notice board.
6. Household Members
Dependent members upto the age of 25 years may be allowed at the discretion of the committee to use the golf links only and shall be called household members. The monthly subscription for such household members shall be as follows:
(1) For dependent children between ten to sixteen years the monthly subscription shall be Rs. 240.00 per child. For dependent children between the age of sixteen to twenty-five years the monthly subscription shall be Rs. 400.00 per child. The wife of a member playing golf shall pay Rs. 400.00 per month. However, household members from Armed Forces member's category shall pay Rs. 50 per child till 16 years of age and Rs. 80 per child from 16 to 25 years of age and the wife of Armed Forces member shall pay Rs. 80.
(2) Children of members after attaining the age of twenty-five years who have been household members for five years may apply for temporary membership and the committee in its discretion may elect out of such candidate as temporary member upon payment of 25 percent of entrance fees at time of election. The children of deceased members shall be given preference. Household members actually residing abroad for studies (after attaining the age of 25 years) may be elected household members upto the age of 28 years on production of documentary proof.
(3) A household member may be allowed to retain his household status if he has applied for membership till such time his application is finally decided.
7. Corporate Members
Any company of repute shall be eligible for application to the club to become corporate member. The Directors or officers or ex-officials of such company may become corporate members of the club upon payment of Rs. 1,500,000 per person. Corporate members shall be treated in the same manner as temporary members and their election procedure and rights shall be identical except that the company retains the right to change its nominee five times within a period of fifteen years after which the membership of the company shall lapse. Such members may be given priority for election at the discretion of the committee. However, if a sponsoring company desires to replace a nominee, the person so affected shall be eligible for election as temporary member in his own right and may be considered out of turn by the committee. The notice of such election shall be posted on the notice board.
A gentleman / lady who has been a corporate member for 5 years, and has been playing golf and has regularly used club facilities, may become a temporary member of Karachi Golf Club on payment of full membership fee on retirement from his/her corporation. Any corporate member relinquishing his nomination as corporate member may apply for temporary membership to the club and will be processed accordingly.
Upon attaining his temporary membership, for consideration of his permanent membership, the managing committee shall take into cognizance and add the number of years as corporate member nominee to the number of year as temporary member to comply with Rule 5 (a).
Young executives of corporations registered with the Karachi Golf Club may become members of the club on a fee of Rs. 150,000.00 and monthly fee of Rs. 1500.00 per month valid until the age of 35 years.
8. Armed Forces Member
(1) Serving members of the armed forces shall be eligible for election as temporary members and shall pay no entrance fees, and the monthly subscription fees of such members shall be 50 percent of temporary members but their period of membership is limited to their length of continuous service in Karachi. The notice of such election shall be posted on the notice board of the Club. The Pakistan Navy due to its long association with the club shall have an added facility in as much the officers of the Navy who seek election as Armed Forces members shall have to pay monthly subscription of Rs. 500/- until otherwise decided by the General Body Meeting of the club. On re-transfer to Karachi the membership of serving Naval Officers who were members of the KGC be re-activated.
(2) Number of serving armed forces members not to exceed 150 with an additional 100 members from among serving Naval Officers.
(3) Temporary armed forces members, who have played regularly at the club, and/or are settled in Karachi after retirement, would be eligible to become special temporary members on payment of Rs. 42,000/-. After 5 years they would be eligible to become permanent members on payment of 50% of prevalent conversion fee for civilians. They shall be charged monthly subscription at 50% of the normal rate in temporary and permanent categories.
(4) The number of such memberships shall be restricted to ten per annum at least 60% of whom shall be ex-Naval Officers.
(5) These members shall not be included in counting of the total membership of Karachi Golf Club as per Rule 1.
9. Veteran Members
Any member after attaining the age of 60 years and having been a continuous member for 8 years shall qualify to veteran member subscription and shall thereafter pay 50 percent of the monthly subscription of temporary or permanent members as applicable. This status shall be awarded on their sixtieth birthday.
10. Senior Veteran Members
Members over seventy years of age and having 20 years of membership shall pay no monthly subscription fee.
11. Diplomats
Accredited career diplomats may become members of Karachi Golf Club on a joining fee of US$ 1,000.00 (equivalent in Pakistani Rupees) for a period of one year; spouses may also use the club during this period. If membership is renewed beyond 2 years, then the rate shall be enhanced to US$ 1,500.00 per year.
WORKING HOURS
The Club is open on all days including public holidays.
Contact Information:
Contact Person:
Admiral Zafar Mahmood Abbasi NI(M) Patron-in-Chief ( president)