Munazza Shaheen brings honour to Pakistan Golf
Munazza Shaheen, a remarkable figure in Pakistan's golfing world, is currently making history at the '2023 Asia-pacific Amateur Golf Championship' being held at the Royal Melbourne Golf Club in Australia.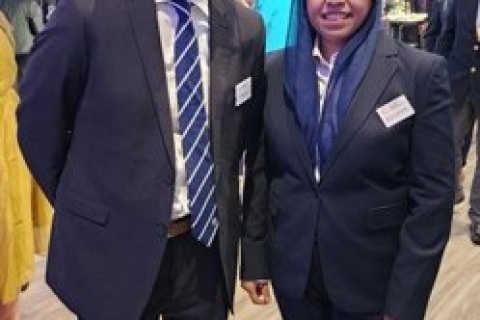 Munazza Shaheen has earned a unique honour for Pakistan. At this very moment, she is creating history in the International Golfing World by being part of a team of twelve International Rules Officials, who are presently refereeing the prestigious '2023 ASIA-PACIFIC AMATEUR GOLF CHAMPIONSHIP' that commenced this morning at the Royal Melbourne Golf Club in Australia.
Her historic achievement is further magnified by the fact that she, as a lady, has been selected by the venerable Royal & Ancient
(R&A) Scotland (that sets the global standards for International Golf) and the Asia Pacific Golf Confederation (APGC) to perform this task in an ALL-MALE international golf tournament.
Mr. Grant Moir - the Executive Director Governance of the R&A, who is also the Tournament Director of the current event, stated that her selection was based on her hard work and ardent desire to learn that he had personally witnessed during her participation in the week-long R&A Tournament Administrators and Referees Seminar that she had attended at the St Andrews Golf Club in Scotland in Feb this year.
He further stated that it was a huge achievement for her to have been invited as the first woman from Pakistan to referee an international match. He considered this to be an inspiring story for other women of the region and the R&A itself.
Equally laudatory were the remarks of Mr. Taimur Hassan, President APGC, who emphasized: "Munazza, certainly, deserves the honour of receiving this prestigious invitation, which she has earned through her sheer dedication and hard work. I am proud of her. I will always be there to facilitate her at international forums."
On arriving at Melbourne airport, Munazza was extended a very warm welcome. Everyone at the Reception Desk was eager to meet the Lady Rules Official from Pakistan. One of them remarked, "Although we are used to receiving foreign rules officials, it's a unique experience and honour for Golf Australia to receive a lady referee from your part of the World."
It is worth mentioning that Munazza Shaheen is amongst a small band of golf officials who have the honour of achieving all three levels of golf rules certification within a short period of only 12 months. She got her Level-I Certification online with a 100% pass in April 2022, her Level-II from Singapore with a distinction in October 2022 and finally earned her Level-III from R&A, St Andrews with a merit in February 2023.
Incidentally, she and Col (R) Zahid Iqbal are presently the only two Pakistani golf officials who have earned their Level-III Certification. However, in the words of Col Zahid; "Munazza has great potential and is highly committed to golf rules. She is the future hope for Pakistan Golf." It is pertinent to mention here that this achievement of her has inspired many other Pakistani men and women golfers to also follow in her footsteps.
When asked to comment on her phenomenal achievements, Munazza expressed her debt to Col (R) Zahid Iqbal for all the technical advice and guidance that he continues to provide her, Mr. Taimur Hassan for introducing her to rules officials abroad. Similarly, she eulogised the support that has been extended to her by the Pakistan Golf Federation (PGF) in terms of facilitating and financing her golf related foreign trips.
She was also very appreciative of the honour that the PGF extended to her by appointing her as the Tournament Director of the 62nd National Golf Championship held in April 2023, within a month of her qualifying as rules official. The tournament, in which the bulk of the participants were male golfers. This was indeed a classic case of a woman golfer 'breaking the proverbial glass ceiling' in Pakistan.
However, she had no hesitation in attributing her success primarily to the guidance and support of her mentor, Dr Asma Afzal Shami, the erstwhile Chairperson Ladies Golf in Pakistan on behalf of the PGF. In Munazza's own words; "She not only 'discovered' me but then unleashed my hidden potential and has constantly motivated and challenged me to continue aiming for the stars and Beyond!"