Karachi School Games & Athletics Club is an athletics and fitness club which groom the young players and athletes to the next level and make them compatible to show what they've got.
The club is based in Karachi, which is the largest city in...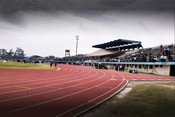 The Punjab Athletics Stadium was built in 2003 at a cost of $220 million. The stadium has a capacity of 10,000 spectators.
The Stadium was designed by architect Khalil-ur-Rehman & Associatiates. The venue is also used for...