Aneela Gulzar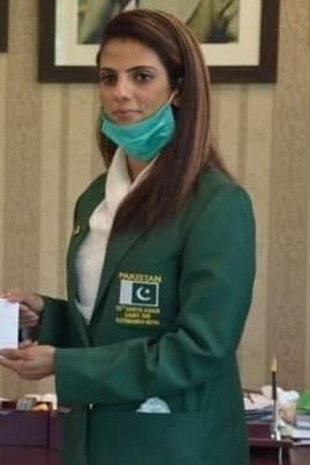 Achievements
South Asian Games 2019 Nepal Katmandu—400m rely (Silver), 100m rely (Bronze) (With New National Record)
National games 2019 Peshawar (1 Gold, 2 Silver, 3 Bronze)— (800m (Gold), 2.12, 400 Rely (Silver), 100m rely (Silver), 400m (Brown) 55.11 200m (Brown) 25.01, 100m (Brownz).
All Punjab Inter-Club Athletics Championship—100m, 200m, 400m, 100x400m, Rely Gold (Best Athlete)
72 Punjab Games 2019 Lahore —200m, 400m, Gold (PB) Games Record.
Inter Colleges—200m, 400m, 400m, 800m, 400m, Hurdles (Gold Record) (Best Athlete)
2018-2019 All Pakistan Athletics inter University —200m, 400m, 800, (Record) 100x400m, 4x400m, Gold (Best Athlete)
2018-2019 National Championship Islamabad —400m, 800m, 4x 400m, Bronze
2017 Quaid-e-Azam Games —400m, 800m, 4x400m, Rely Gold (Best Athlete) (GR).
All Pakistan Inter Universities 2016 —400m, 800m, 1500m, 400m, Hurdle, Gold, 4x 400m 100x 400m Gold (Best Athlete)
National Championship 2018 Quetta—4 x 400m, Silver
Horse and Cattle Show 2015—800m, 400m, Gold 4x400m, Gold 4x400 Meter Gold.
Youth Festival 2014 —400m, 800m, Gold
Division Level 2014—200m, 400m, 800m, Gold (Best Athlete)
National Games 2013—400m Silver, 400x4 Rely Gold.
Saif Junior Championship (India) 2013
College-level —100m, 400m, 800m, Gold (Best Athlete)
Divisional Level —400m, 800m, Gold
Youth Festival College Level 2013—400m Silver
Aneela Gulzar's Profile
Age (Years): 28
Sport: Athletics
City: Faisalabad
Weight(Kgs): 48
Clubs:
Pakistan Army
Teams:
Pakistan Athletics(National Team)
Higher Education Commission(Departmental Team)
Biography:
Aneela Gulzar is a cheering athlete and national champion that belongs to Faisalabad, the third-most-populous city in Pakistan, and the second-largest in the eastern province of Punjab.
She is working as a Physical Education Teacher in New Arrival Club.
She supervises sports base Admission Trials of Athletics for Punjab University.
She also organizes sports tournaments as she organized 1st All Punjab Inter-Club Athletics Championship as a Head organizer 2019 and Departmental Sports Gala of Punjab University as an assistant organizer secretary.
Rafaqat Hussain, Hammad Iqbal, Habib ur Rahman Bhatti, Nasir khan and Rana Saleem are the teachers of Aneela.