Utterly talented Aania Farooq successfully defends her title in 2nd SGA Ladies Amateur Golf Championship
The three-day 2019 SGA Ladies Amateur Golf Championship concluded with Aania Farooq successfully defending her title at the Karachi Golf Club (KCG).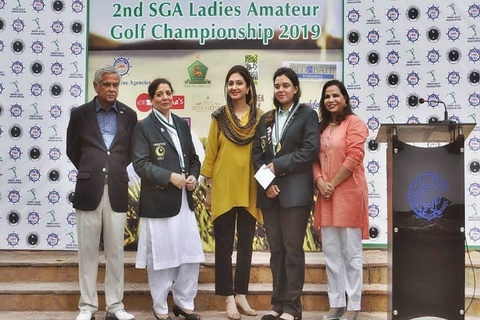 Aania Farooq, the 18-year-old who has stormed to the top of the ladies' golf ladder in the country and as expected, emerged as the first-round leader in category A on the very first day of the Championship while the second day proved to be a bad round for her as another outstanding golfer Hamna Ahmad took the lead with shooting a 78 in the first round and finished the second round on 164 with a two-shot lead over Aania's 85.
But the final round saw Aania preventing Hamna from the start to finish with a sparkling 77 for a three-day aggregate of 243 and a one-stroke win over the overnight leader. While Hamna shot 80 to end up on 244. Daniah Syed settled for the third position with 79 to finish on 250 but was the net winner with 220 ahead of Aania (231) and Hamna (232).
Ana James Gill stood fourth in both gross and net categories, her third-round 89 seeing her settle for 264 and a net score of 240. Fifth spot went to Zeb Un Nisa with a final-round of 91 and a net score of 253.
Category B winner stood Ayesha Fauzan in both gross and net events with her second-round score of 89 and a finish with 174. Net score was 132. Abiha Hanim Syed also shot an 89 to finish runner-up with a two-day aggregate of 177, one stroke ahead of Lee Sun Sook (91). Lee ended second in the net category on 142, one shot ahead of Abiha.
Syeda Iman Ali Shah (94) topped with 192 with net score of 130 in Category C and Shabana Waheed followed her with a shot of 100, both gross (201) and net (145). Third position winner was Shabana Siddiqi whose 111 saw her finish with a gross of 216 and a net score of 156.
Sindh Golf Association (SGA) organized the Ladies Amateur Golf Championship, into the current year which marked its second edition and was a three day event which was held at the lush green ground of Karachi Golf Club (KCG).