Matloob Ahmad adjudged 24th CNS Open Golf Championship title winner
Pakistan's one of the most successful golfer, Matloob Ahmad took the lead on the final day of CNS Open Golf Championship 2019 to seal the victory to his tally at Karachi Golf Club (KGC).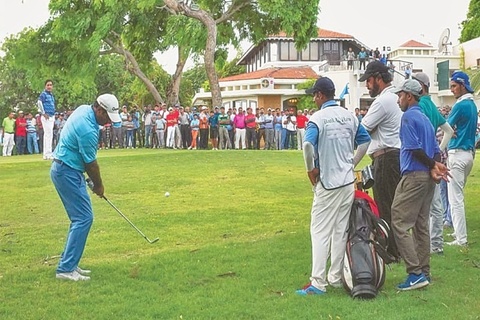 24th CNS Open Golf Championship
Karachi Golf Club (KGC)
The final day of 24th Chief of Naval Staff (CNS) Open Golf Championship was held at the same lush green course of Karachi Golf Club (KGC) where dark storm clouds loomed over the city of lights: Karachi.
Matloob of Lahore started the day with a one-shot lead on his way to 71 with his previous day record being 62. Standing downhill and around 15 feet from the green of the 18th hole, he just needed a par to win his second UMA-CNS Open title in four years. He was at a close contest with his opponent Muhammad Tariq who was caught in a seemingly impossible position where he needed a chip-in from 30 yards for a par to score more than Matloob.
As Tariq approached his birdie putt, his shot stopped just a foot before the cup which ended in a chance missed while comparatively, Matloob's putt for birdie landed even closer to which he lifted the CNS Open title for the third time this year. He had previously won the same title in the 2001 and 2016 editions. He took the title winner award of Rupees 863,250 from Chief of the Naval Staff Admiral, Zafar Mahmood Abbasi.
"It's a great feeling to once again win this prestigious championship." said the title taker.
While Tariq ended his championship run with an impressive final round of three-under 69 for an aggregate of 276 (-12). As he stood the runner-up, he was awarded with a cheque of Rupees 552,48.
Mohammad Akram earned the title of Senior Professionals category and was followed by Imdad Hussain, Ghani Khan and Raja Iftikhar while Muhammad Saqib emerged as the title gainer of Junior Professionals competitions with Akash Bashir taking the second spot.
Amateurs title was claimed by Taimur Khan of Peshawar by his incredible 12 strokes with a four-day aggregate of 284 and Zohaib Asif (296) took the runner-up spot.
Gross title of Seniors Category was taken by Col Rustam Ali with a score 150 followed by Khurram Khan on 157. Javed Wadood clinch the Net category's top spot while Azhar Abbas finished as the runner-up. The veterans title went to Group Captain, Aftab A Khan while Ladies event's crown went to Aania Farooq.
Nadir Khan won the Gross title in Juniors (A) category alongside Abdullah Badar taking the Net title. The Juniors (B) class winner stood Sameer Syed (Gross) while Shahmir Sajid won in the Net event.