Salman Akhtar earns 24th CNS Open Golf Championship Hole-In-One title
Renowned golfers were seen competing with their best skills in the competitions held on the first day of 24th CNS Open Golf Championship which is being held at Karachi Golf Club.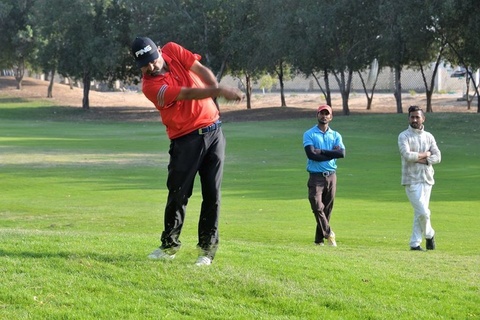 24th CNS Open Golf Championship
Karachi Golf Club (KGC)
The one to steal the show as 24th Chief of Naval Staff Open Golf Championship teed off at the rain-drenched course of Karachi Golf Club (KGC), stood recently turned professional, Salman Akhtar as he aced the third hole on front nine - Red course and then returning with an incredible score of 79.
The 26 year old golfer, as a result of taking the title of Hole-In-One won a brand new Toyota Fortuner worth almost nine million rupees, to express his proudness towards his achievement he said,
"I just couldn't stop thinking about it! It all seemed like a dream. I was unable to play my shots but I have no complaints. It's because of my father and all his hard work that I'm standing here today enjoying this moment."
A tragedy to this win is, Salman's win of Hole-In-One came in the morning as when the competitions teed off, but another one who also marked a Hole-In-One was Omar whose success came in the evening but as the title was already taken, his won went unrewarded.

On the other side, DHA's Muhammad Qasim, along with Ahmad Baig and Shahid Javed Khan, both from Lahore stood at the top, tied with scores of three-under par 69. Just one shot off the pace was a group of five which included: Hamza Amin, Matloob Ahmed, Mohammad Imran, Talat Ijaz and Talib Hussain.
While Afsar Ali, Muhammad Tariq, Mubariz Ahmed, Muhammad Munir, Shafaq Khan and Muhammad Naeem stood at 71 score, followed by Pakistan No. 1, Shabbir Iqbal, Syed Ali Reza, Muhammad Safdar, Muhammad Afzal, Waheed Baloch, Usman Ali, Amjad Yousuf, Muhammad Amir, Arshad Zubair, Khushal Khan, Muhammad Zubair and Latif Rafiq at 72.
Due to little intervals of rain in the city, some of the Amateur golfers were forced to return to the club-house at dusk without completing their round.