Aisam-Ul-Haq Qureshi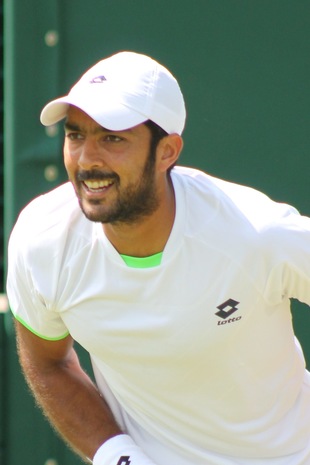 Achievements
Aisam ul Haq alongside Aqeel Khan steered Pakistan to humongous win over Slovenia in Davis Cup 2020 tie for World Group 1 Play-offs.
Inglot-Qureshi picked up their first ATP Tour doubles title as a team at the New York Open 2020.
Aisam-ul-Haq Qureshi and his British partner Dominic Inglot completed their team debut with a runner-up trophy at the Open Sud de France in Montpellier, France.
Aisam along his Mexico's Santiago Gonzalez won the US Men's Clay Court Championships doubles title in the 2019 ATP Houston final.
Aisam-ul-Haq along Aqeel Khan earned the men's doubles title of the 5th Shaheed Benazir Bhutto National Ranking Tennis Championship 2019 at Islamabad Tennis Complex.
Top seeds Aisam-ul-Haq and Aqeel Khan earned the doubles title at Nayza All-Pakistan Open Tennis Championship 2019.
Celebrated 300th tour-level win of career during Davis Cup Group I tie on 3 February.
Pakistani advanced to Marrakech final with 1st-time partner Draganja and captured 26th Challenger doubles title at Irving, USA.
On 28 February, contested the Dubai final for the second straight year.
On 19 July, captured his 11th ATP World Tour title, partnering Marray in Newport to 10-8 Match TB win over Monroe-Pavic.
On 2 August, dropped to 11-14 in tour-level doubles finals after a runner-up finishes in Gstaad.
On 10 October, lost in Tokyo SFs with 1st-time partner Simon to fellow 1st-time team Klaasen/Melo 64 63...Upset No. 2 seed and US Open champion Herbert/Mahut 46 63 10-8 in QFs...
Reached the Sydney final (l. to Nestor-Zimonjic in two TB sets) with Bopanna, fell in Australian Open 3R (l. to Huey-Inglot.
Reached Montpellier SFs (w/Junaid), losing to Davydenko-Istomin 10-7.
With Bopanna, won their fifth ATP World Tour team title – and first since reuniting at the start of 2014 – in Dubai (d. Nestor-Zimonjic).
The Pakistani teamed with Jean-Julien Rojer to compile a 29-28 record and finish No. 6 in Emirates ATP Doubles team rankings and No. 15 individually.
Captured 2nd career ATP Masters 1000 title and 1st with Rojer at Miami (d. Fyrstenberg-Matkowski).
Also won Stockholm title and runner-up at Oeiras and Marseille. Best Grand Slam result was QF for 2nd straight year at US Open.
Qualified for Barclays ATP World Tour Finals for 2nd year in a row and went 0-3 for 3rd straight year and dropped to 0-9 lifetime - also qualified in 2011.
Earned a career-high $385,479.
The Pakistani compiled a 2-1 record in ATP finals (w/Rojer), with an 11-4 record and 2 SF in Grand Slams and a 36-27 record overall.
Finished No. 7 in ATP Doubles Team Rankings and No. 14 individually.
In 1st 4 months, was 5-9 before winning 1st title on clay in Estoril.
Then reached SF in Nice and Roland Garros.
Won the title in Halle.
Reached QF in Toronto and Cincinnati, losing in Match TB in both, before SF at US Open.
Late in the season, reached SF in Stockholm and final in ATP World Tour Masters 1000 Paris.
Qualified for Barclays ATP World Tour Finals in London and went 0-3 in RR...

The Pakistan native teamed with Bopanna to finish No. 5 and qualify for season-ending Barclays ATP World Tour Finals in London. They compiled a 43-28 match record, winning a career-high 3 ATP World Tour titles.
Also reached SF in 5 other tournaments, including US Open, Indian Wells and Monte-Carlo.
In 1st 5 months of the season, went 17-12, with best results 4 SF and Roland Garros QF.
In June, captured 1st career grass-court title in Halle and were upset in 1R at Wimbledon, falling 21-19 in 3rd set to Colombians Cabal-Farah.
Won titles in Stockholm (d. Melo-Soares) and ATP Masters 1000 Paris (d. Benneteau-Mahut) in November.
Earned a career-high $434,430.
The Pakistani native teamed with Indian Bopanna to form Indo-Pak Express…Captured their first title together in Johannesburg in February and advanced to five other finals, including US Open.
Advanced to final in Casablanca and Nice.
Advanced to QF at Wimbledon.
Reached back-to-back SFs in Los Angeles and Washington, defeating No. 1 Bryans in QF.
Runner-up at New Haven then did not drop a set en route to first Grand Slam final at US Open.
Afterwards, jumped from No. 15 to No. 6 in ATP Team Ranking.
Runner-up in St. Petersburg Led ATP with 16-3 Match Tie-Break record.
Served as alternates for Barclays ATP World Tour Finals in London.
Finished No. 8 in ATP Team Rankings and No. 18 individually, both career-bests…Earned a career-high $266,218.
Ranked No. 59 in doubles with 8 Challenger finals (4-4), a SF in Indianapolis (w/Querrey)…3R at Wimbledon (w/P. Amritraj)...
Reached Newport doubles final (w/Bopanna)…Went 3-2 in Challenger finals...
The top player from Pakistan compiled his best season by compiling a 15-8 match record in Challenger play with one title.
In limited ATP action (4-4 mark), also advanced to his first ATP QF in Newport.
Began first four-and-a-half months in Futures events, compiling a 24-9 record in 11 tournaments.
Won titles in Dubai #1 and Kuwait #2 while reaching SF in two others.
In June-July, played well on the grass by qualifying in Halle and Wimbledon.
Then reached QF in Newport with wins over Fish and Healey.
In Challengers, advanced to QF in Manchester and final in Nottingham.
Closed season with first Challenger title in New Delhi.
In doubles, won five Challenger titles in eight finals and finished with a year-end best No. 90.
Earned a career-high $116,922.
Aisam-Ul-Haq Qureshi's Profile
Age (Years): 43
Sport: Tennis
City: Lahore
Weight(Kgs): 82
Biography:
Aisam-ul-Haq Qureshi is a renowned Pakistan's most successful and high-profile tennis player. For more than two decades, an athlete from Lahore has been Pakistan's lone flag-bearer in tennis highest professional stage, winning numerous trophies and awards.
Aisam became Pakistan's most successful doubles player ever with wins at events like the 2010 SA Tennis Open and 2014 Dubai Tennis Championships. While growing up in Lahore he turned professional at the age of eighteen.
He received the Arthur Ashe Humanitarian of the Year Award for playing with Israeli player Amir Hadad at Wimbledon and the U.S Open in 2002. He defeated a doubles tandem which included Canada's Milos Raonic to win the Gerry Weber Open title in 2011.
Career W/L- ATP Tour & Grand Slam:

33/27

Career W/L- Challenger Tour:

95/113

Career W/L- ITF:

172/70

Career Highest ranking for doubles:

8 (6 June 2011)
>Nickname is "Somi".
> Enjoyed cricket and swimming before age 12, when he started playing tennis.
> Speaks Urdu, Punjabi and English.
> Father, Ihtsham-ul-Haq, is a businessman and presented the Prince Henrik Medal of Honour by the Royal Kingdom of Denmark.
> Mother, Nosheen Ihtsham, was once Pakistan's No. 1 tennis player; brother, Zain; sister, Shiza Hassan.
> Educated at Punjab University Lahore.
> Favourite surface is grass, the shot is backhand volley and the tournament is Wimbledon.
> Idols growing up were Stefan Edberg and Boris Becker.
> Hobbies include listening to music, watching movies, playing football and spending time with the nephew.
> If he wasn't a tennis player, he would have been a cricketer or a pilot.
> Supports Liverpool and Real Madrid football clubs.
> Favourite sports personalities are Michael Jordan and Mohammad Ali.
> Runs 'Haq Foundation' and 'Stop War Start Tennis,' which promotes peace through tennis and helps victims of war resume an active lifestyle. Stop War Star Tennis received an ATP ACES For Charity grant for $15,000 in 2018.
> Recipient of President's Award for Performance by the Government of Pakistan on 14 August 2004, the Arthur Ashe Humanitarian of the Year Award in 2002 and 2010, 3 gold medals at 1st Islamic Solidarity Games in Saudi Arabia in 2005 and Salam Pakistan Youth Award by President of Pakistan on 14 August 2007.
> Runner-up for the 2003 Anne Frank Award for Moral Courage by the Anne Frank Trust.
> Selected as a 2010 "Champion of Peace" by Peace and Sports World Forum in Monaco.
> Voted "Most Stylish Sportsman" in Pakistan in 2011.