Aisam ul Haq and partner breezes into Doubles Quarterfinal of Barcelona Open
Aisam ul Haq and his Dutch partner Jean Julien Rojer defeated duo of Jaume Munar and Tommy Robredo to get into the quarterfinal of ongoing Barcelona Open Banc Sabadell in Spain.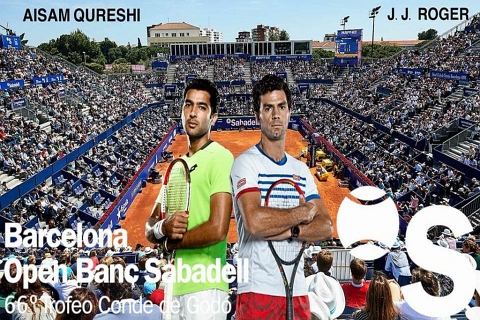 PAK-NED pair of Aisam ul Haq Qureshi and Jean Julien Rojer outplayed Spaniard pair of Jaume Munar and Tommy Robredo by 2-0 in an hour long round 1 of Barcelona Open Banc Sabadell ATP 500 tournament.
Both pairs held their serves comfortably in the opening set with the only break of the set coming in the pressure game on 6th serve of Munar J. / Robredo T. at 5-6. Aisam and partner cruised to 40:0 in the game to take 3 set points advantage. Munar & Robredo could only save one set-point before loosing the set 5-7 in 32 minutes.
The pairs of Munar J./Robredo T. and Qureshi A./Rojer J. have not played each others before this encounter on clay in Barcelona, Spain.
Serving first, Aisam and Rojer earned the break in the 6th game of the second set to take the decisive lead. With a comfortable poistion at 4-2, the pair held their serves against the aggression from Munar & Robredo to win the set & match at 6-3 in 29min.
Today the PAK-Dutch duo will face Number 1 seeds Polish Lukasz Kubot and Brazilian Marcelo Melo pair in the quarterfinal of the tournament.