Roman Mir Shafiq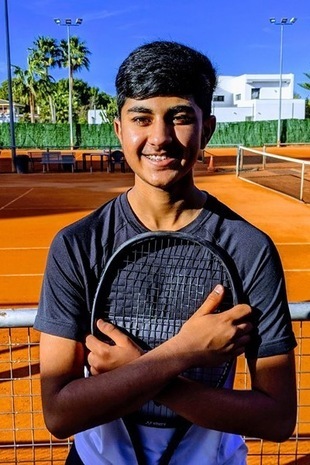 Achievements
Head East Lancashire U16 League - No.1 Ranked and League Winner with BTC
Winner of Burnley TC Grade 4 (U18) Finalist - 2019
Winner of Ilkley Open (U18) - 2019
Winner of Sunderland Open (U18) - 2019
Winner of Holcombe Brooke Open (U16) - 2019
North Wales Open (Ruthin) U18 - Finalist
Wrexham, Wales Open (Men's Open) - Semi Finalist 2020
Roman Mir Shafiq's Profile
Age (Years): 18
Sport: Tennis
City: Chakwal
Weight(Kgs): 63
Clubs:
Burnley Tennis Club
Teams:
Pakistan Junior (Senior ahead)
Lancashire (Road to Wimbledon Competitions)
Burnley
Biography:
Roman Shafiq is an elite tennis player based in England. He was invited to attend the Junior Davis Cup trails for Pakistan in 2020 and has since opted to represent Pakistan in International Tennis at Junior and Senior Level ahead.
He has excelled in British Junior Tennis since going full time as a 13-year-old and has shown the fastest progress of almost any U14 and U16 player in his Northern Region. He has won the Prestigious 'Rising Star in Sport Award' in 2020 which is awarded by the 8th British Muslim Awards – Roman became the youngest Award winner as he won 'The Rising Star in Sport' award for his impact and success in tennis, since choosing Tennis over Football in 2019.

Roman has been an Academy Football player too at Premier League Academies like Burnley and Man City and has represented District and County teams from U8 to U14 level as one of few South Asian Origin Elite Youth Footballers.
Roman has trained in Spain on Clay and was due to start his European Tennis in Holland and Portugal until COVID 19 Pandemic arose. He is pencilled in for the Islamabad ITF Juniors Event in October 2020 and the NTC Director (Asim Shafik) is very keen to work Roman.