Raahim Agha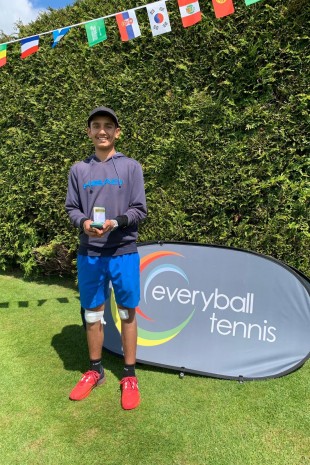 Achievements
• Career high ranking of 1905 for Junior ITF
• Top 50 in UK for his age group 16U and 18U
• Semi-Finalist of ITF, J5, Islamabad, Pakistan.Feb2020
• Winner 16U and Runner's up Men's in Totteridge Open Oct2019
• Winner of Men's G4 at Sutton Tennis Academy One-Day Indoor Event Oct2019
• Runner's up of 16U in Fred Perry Championships, Sep2019
• Winner of 18U doubles at Dukes Meadows London Tennis Championship, July 2019
• Runners up, Sutton Tennis Academy Men's FAST4 ADULT PRIORITY Event July, 2019
• Qualified for main draw of Road to Wimbledon, June 2019
• Won 18U at Nuffield Health Oxford shire Pre Wimbledon-Week Tournament, June 2019
• Runner's up 16U at Chesham Bois LTC Open, June 2019
• Represented Middlesex in LTA 14U County Cup May 2019 – Finals
• Represented Middlesex LTA 14U County Cup May 2019 – Boys Group F
• Tennis Europe, 16U Holland Feb, 2019
• Bolton Teen tennis Tennis Europe, Cat 1. 14& U, 2018
• Winner of G- 4, 18&U, Finsbury Park, 2018
• Winner of County Closed 14&U and S.F of 16&U, 2017
• Finalist of G-3,16& U Westway 2017,
• S.F of G-3, 16 &U, Bishop Park 2018,
• S.F of G- 3, WCT, 16 &U, Halton 2018
• No 1 In the country for 8&unders and 9&unders
• Top 10 in UK for 10&unders and 12&unders

Raahim Agha's Profile
Age (Years): 18
Sport: Tennis
City: Islamabad
Weight(Kgs): 80
Clubs:
National tennis Center Islamabad, Delgado and Lee Tennis Academy
Teams:
Middlesex,Great Britian
Berkhamsted Tennis Academy
Delgado and Lee Tennis Academy.
Biography:
Raahim Agha is a junior professional tennis player, who is working hard to become the best tennis player in the world.
He was born in Islamabad, Pakistan.When he was three years old, his mother, a former professional table tennis player, started working with him, seeing an aptitude for the sport in young Raahim.

At the age 0f 8, he won regional tournaments in Great Britain and has played invitational Grade 1 tournaments. He was among the Top 10 junior tennis players in Great Britain by age 12.
He played his first senior tournament at the age of 10 and got into the semi-final but later was forced to pull out because of his very young age and this left him in tears but he didn't give up and continued
playing two or three tournaments per month.

He has been practising 11 hours a week, along with up to five hours of conditioning.