Arshad Nadeem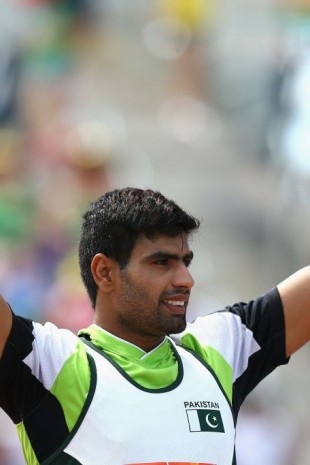 Achievements
Arshad wrote history for Pakistan by blasting his way into the Olympics with an 86.29m throw at the 13th South Asian Games in Nepal.
Arshad Nadeem won Bronze medal in Asian Games 2018 with a javelin throw of 80.75m.
Pakistani thrower Arshad Nadeem secured the second spot in Commonwealth Games 2018-Group B Qualification round with a National Record as he managed to throw at a distance of 80.45m on his second attempt.
Arshad also won a bronze in the Asian Junior Championships in Vietnam.
He claimed bronze in the 2017 Baku Islamic Games.
Arshad Nadeem's Profile
Age (Years): 25
Sport: Athletics
City: Khanewal
Weight(Kgs): 95
Biography:
Pakistani thrower Arshad Nadeem from Khanewal studied at Punjab College Mian Channu, Pakistan.
In 2016 he received a scholarship from the International Association of Athletics Federations [IAAF], which allowed him to train for eight months at their High Performance Training Centre in Mauritius.