Barry's lift Shah Rafi Alam Memorial Polo Cup
Barry's defeated Jubilee Insurance/Master Paints in a nail-biting final and won the title of Lt Gen Shah Rafi Alam Memorial Polo tournament at Lahore Polo Club ground.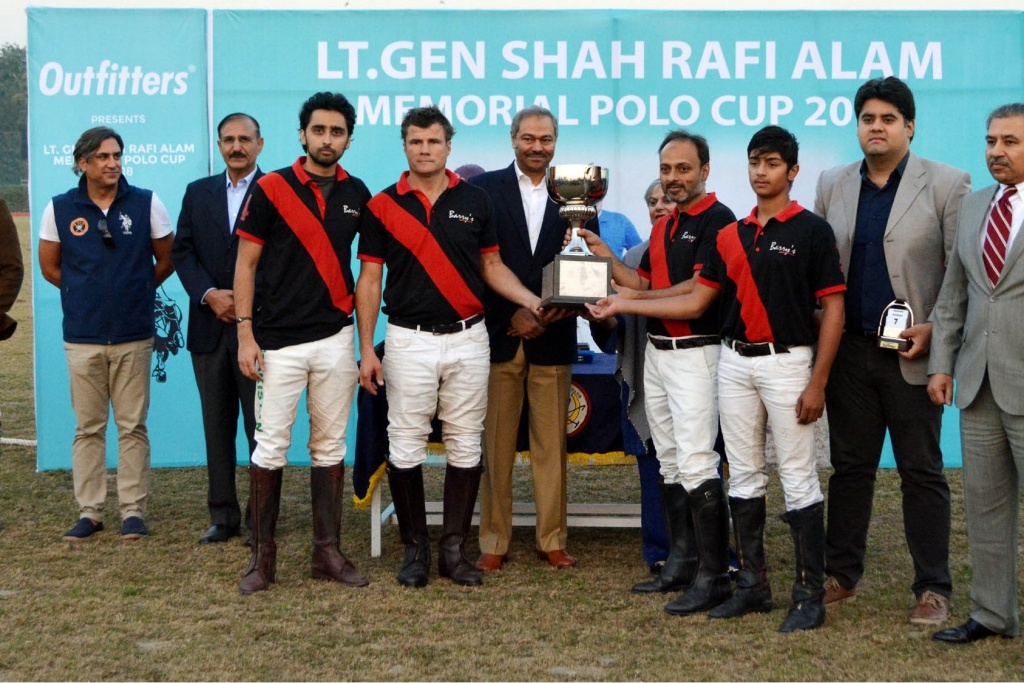 Shah Rafi Alam Memorial Polo Cup 2018
Lahore Polo Club ground
Final of the tournament was played between Barry's and Jubilee Insurance and it was Barry's who lifts the cup after a thrilling encounter and won it by 5-4½. Hernan Pieres and Raja Samiullah enforced all their efforts for the title from Barry's. Both the players hammered 2 goals each while Raja Mikael Sami struck 1 goal. Jubilee Insurance/Master paints had a half goal handicap advantage but they could not use in their way, Edward Bannireve and Hamza Mawaz Khan banged in a brace each for them.

Edward Bannireve first took charge and out his team Jubilee Insurance ahead as he struck a beautiful field goal and Hamza Mawaz doubled the lead soon to take 2-0 lead. Last moments of the first chukker saw Raja Samiullah slamming a goal from Barry's to reduce the lead to 2-1. Barr's continued the second chukker with same momentum as Raja Mikael Sami hammered an equalizer to draw the blood at 2-2. Hamza Mawaz then came up with another beautiful field goal as he converted a 60 yards penalty and once again provided his team 3-2 lead.

Barry's then changed the strategy of the game and banged in a brace in the third chukker through Hernan Pieres and Raja Samiullah as they were looking in aggressive mood. Both of them converted 30 and 40 yards penalty and gave lead to Barry's for the first time in the game by 4-3. Edward once again came to rescue Jubilee Insurance as he struck the equalizer after converting 30-yards penalty. Both the teams were looking furious and wanted to take the final match and Jubilee Insurance had a half goal edge over the opponents but it was Hernan Pieres who pumped in the match winning goal from Barry's and won the match by 5-4½.

In another match, half goal handicap advantage won Outfitters the subsidiary final against Army by 5½-5 goals. Alman Jalil was the top scorer from Outfitters with a hat-trick while Ahmed Ali Tiwana and Qadeer Ishfaq scored one goal each. Ahmed Bilal Riaz hammered a brace while Omer Minhas, Faizan Tassaduk and Luis Mighal Duggan converted 1 goal each but did not rescue Army to win the match.

Corps Commander Lahore Lt Gen Aamir Riaz HI (M) graced the final as chief guest and gave away trophy to the winning team and also handed over shields to the top performers. Later, the chief guest was presented a souvenir by Lahore Polo Club executive committee member Umer Sadik and guest of honour Mrs Tameez Alam. Outfitters Marketing Head Hammad Sohail, Shah Qubilai Alam and Shah Shamyl Alam, sons of Lt Gen Shah Rafi Alam, and their entire family, LPC executive committee members, secretary Col (r) Shoaib Aftab, players' families and polo lovers were also present on the occasion.