Cernadas hits six goals to help side win polo championship
All six goals by seasoned campaigner Santiago Cernadas helped Diamond Paints clinch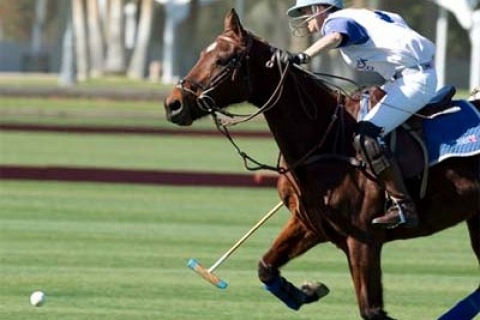 All six goals by seasoned campaigner Santiago Cernadas helped Diamond Paints clinch
the Bank Alfalah National Open Polo Championship 2016 for Quaid-i-Azam Gold Cup trophy, edging out Dollar East/Master Paints 6-4 in the final here on Wednesday.
Cernadas was in nick of form and single-handedly guided his team to earn the win in the all-important match of the all-important tourney of the Lahore Polo Club season.
Equally favourites for the title, both the teams were posing a challenge to each other.
The losing side drew the first blood scoring the lone goal of the first chukker through Juan Crus Losada.
They managed to uphold the lead 2-1 as both the teams struck one goal each in the second chukker.
While Cernadas opened his account for the winners, the losing side's second goal came from Bilal Haye.
But the third chukker saw, Cernadas turning the match in his team's favour registering a hat-trick to take a firm 4-2 lead for the first time.
Four goals were scored in the fourth chukker.
Losada and Hamza Mawaz Khan pumped in one goal each for the losing side.
Cernadas then stole the show scoring back-to-back goals to seal the fate of the final.
No goal was scored in the fifth chukker.
In the classification match, Master Paints/Habib Metro outclassed Learning Alliance 9-3 in a one-sided match to secure the third position.
Both Hissam Ali Hyder and Pedro Guiterrez displayed quality polo and struck four goals each. Sufi Amir contributed with one goal.
For the losing side, Shah Qubilai Alam slammed two goals while Ahmed Ali Tiwana added one.
The emerging player of the season for 2-0 category went to Ali Noor Elahi, 0-2 category award was lifted by Agha Musa, 2-4 category award was won by Raja Taimur Nadeem, who also claimed 'rising talent award' while the most valuable Pakistan award player went to Saqib Khan Khakwani and last but not the least, the most valuable foreign player award was clinched by Juan Cruz Losada.
The best pony of the season award went to Granada of Kamran Nooruddin.
Diamond Paints captain and owner Mir Shoaib Ahmed expressed his delight over the victory and said: "Winning the title National Open is a great honour for my team and me. The players worked really hard and played their best to pick this coveted trophy."
Man of the final Cernadas said the National Open victory made his tour to Pakistan a remarkable one.
"I have received great honour and respect from Pakistani people and polo family. It was my first tour and I would love to visit Pakistan soon to play the next season."

(Source: Dawn News)