Aqeel Khan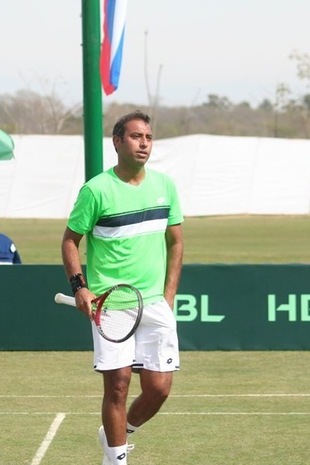 Achievements
He turned pro in 1998 and played his first Davis Cup match in Islamabad, Pakistan, beating Sanjeev Tikaram of Pacific Oceania, 6–1, 6–3.
In 2005 he won a Satellite title in India and twice made it into the finals.
He also won a Satellite in India in 2006.
In 2007, Aqeel Khan won a futures tournament in Ludhiana, India.
In 2008 Aqeel Khan was called up the Pakistan Davis Cup squad and prepared for the hectic Asia/Oceania Group III schedule.
He returned to Davis Cup action in 2009 and won his rubber against Oman in the first round of the Asia/Oceania Group II.
In 2010, he helped Pakistan beat Hong Kong, only to lose to New Zealand 3–2 in the next round.
In 2011, Pakistan once again beat Hong Kong in the first round of the Davis Cup but lost 4–0 to South Korea to remain in Group II.
2 Golds and 1 Bronze in Islamic Solidarity Games 2005 held in Mecca.
Silver medal in 2017 Islamic Solidarity Games held in Baku.
Won Nayza All Pakistan National Tennis Championship 2017.
Aqeel Khan claimed the title of the Shaharyar Malik National Grass Court Tennis Championship 2018.
Aqeel Khan lifts 2nd Chairman JCSC Open Tennis Championship 2019.
Aqeel Khan has won the All Pakistan Open National Tennis Tournament 2019 title.
Aqeel Khan clinched the trophy of the Chief of Air Staff Khyber Cup Open Tennis Championship for 18 times.
Aqeel Khan won EBM Pakistan Open Tennis Championships 2019.
4th NAYZA All open Pakistan Tennis Tournament 2019 winner.
Aqeel Khan annexed 5th Serena Hotels National Ranking Tennis Tournament title.
Veteran Aqeel Khan retains 33rd Federal Cup National Ranking Tennis Tournament 2020 title.
Aqeel Khan along Aisam ul Haq steered Pakistan to humongous win over Slovenia in Davis Cup 2020 tie for World Group 1 Play-offs.
Aqeel Khan's Profile
Age (Years): 43
Sport: Tennis
City: Karachi
Weight(Kgs): 70
Biography:
Aqeel Khan is an iconic tennis player who has been amassing a staggering record on the domestic circuit, without getting due acknowledgements for his achievements. Though many Pakistanis have heard of Aqeel Khan because of his Davis Cup prowess, few seem to know about his indelible mark on Pakistan's local tennis landscape, his struggle to compete in the international arena and about the cruel hand of fate in determining his success as an athlete.
Karachi-born Aqeel Khan is an auspicious tennis player of Pakistan who began playing tennis at the age of 9, whilst attending school in Karachi to avoid doing duties as a ball boy. He began playing junior tennis in 1993 at the Pakistan International Junior Championships.
Despite the potential to move further up the rankings, opportunities have been limited due to a lack of funds, and not enough ITF tournaments being played in Pakistan. It means he has to travel abroad to play matches.
He also holds the record for playing the most ties for Pakistan in the Davis Cup and has the best doubles partnership, with Aisam-ul-Haq Qureshi, for Pakistan.
His younger brother is Jalil Khan, Pakistan number 3 and Davis Cupper. He also has another youth tennis-playing brother called Yasir Khan.
Highest ranking No:
349 (4 October 2004)
Highest rank-doubles:
613.
Birthplace:
Karachi, Pakistan
Residence:
Karachi, Pakistan
Educational Background:
2013 GPTCA B-Level International Coach
2012 ITF Level 1 Coaching Course
2000 Intermediate in Commerce
Coaching Career:
2011–2012

Sri Lankan Davis Cup Team – Coach & Hitting Partner
• Hitting Partner to the players on the team
• Provided the relevant levels of coaching and exercise drills to the players
• Helped the Head coach to make the selections for the players for the relevant matches
• Provided the analysis after the matches helping the coach to make the appropriate changes
Pakistan Davis Cup Team – Temporary Head Coach/Senior Player
• Provided training to the junior and newly selected players on the Team
• Constructed the appropriate training schedules and implemented them with help from my assistant
• Selected the Players for each match on the tie
• Constructed the analysis and provided to the higher authorities of the Pakistan Tennis Federation after the tie
Modern Club Tennis Academy, Karachi, Pakistan – Head Coach
• Coached all kinds of players
• Organized camps
• Helped the Administrators of the academy, coordinating with potential sponsors to set up tournaments at the Academy
• Conducted practice tournaments
• Travelled with the team abroad
Playing Career
Part of the Pakistan Davis Cup Team for the last 16 years
- Won deciding 5th rubbers to promote Pakistan Davis Cup from group 2 to group 1
- Won deciding 5th matches against New Zealand (2004, 2005), to promote Pakistan from Group 1 to World Group playoff matches for the first time in the history of Pakistani tennis
Longest ever Pakistani #1 in Singles & Doubles
Represented Pakistan in 4 Asian Games
Reached career-high ATP ranking (singles) of #349
Represented the country at international competitions, winning 3 ITF Futures and 2 ITF Satellite tournaments
Represented Pakistan in the Islamic Solidarity Games
The team won the gold medal (Individual Doubles Gold Medal & Individual Singles Bronze Medal)