Ali Saeedudin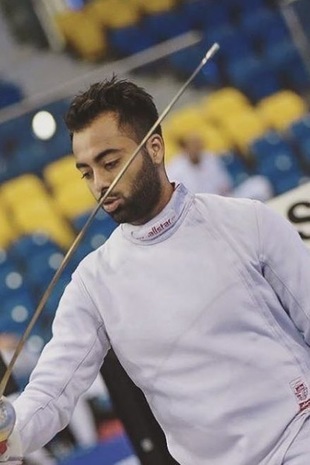 Achievements
2019:

Ali Saeed Uddin won bronze for Pakistan in 13th South Asian Games 2019.
2017:
MKFA ambassador award winner 2017
National Champion of Pakistan 2016-2017
Gold Medal in Independence Day Inter-Provincial Fencing Championship 2017
2016:
Asian confederations license (19 Dec 2016)
Top 16 Fencer in the UAE 2016
Top 8 in the MK fencing academy (2016)
Top 48 finish in the Welsh Open (2016)
Division team champion with Plymouth University (2016)
Top 30 finish in the London Open (2016)
Mercedes Benz International Cup top 13 finish (2016)
2015:
Balkan Cup Bulgaria top 32 (2015)
UAE RAK Epee Championship top 16 (2015)
MK adults Cup top 8 finish (2015)
Mercedes Benz international Cup 24th finish (2015)
2014:
Mk Adults Cup Bronze medal (2014)
Ali Saeedudin's Profile
Age (Years): 27
Sport: News
City: Karachi
Weight(Kgs): 74
Teams:
Pakistan Fencing (National Team)
Biography:
Ali Saeedudin is Pakistan's prominent fencer. Born on 9 October 1996, Ali belongs to the fifth largest city proper in the world, which named as Karachi.
Ali started learning the sport of fencing in 2013 and by 2016 he was amongst the top 16 fencers in the United Arab Emirates. Ali has successfully been participating in international sporting events securing top finishes.