Shahid Tariq Masih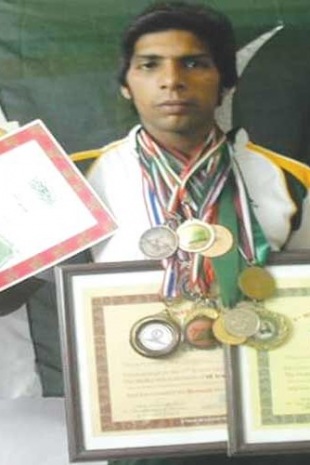 Achievements
Gold Medal in 2008 First Martial Art Festival in Mashhad.
Three bronze medal in Al-Fajar Asia Cup in Tehran
Bronze Medal in kickboxing cup held in Rawalpindi in 2002
Silver Medal in All Pakistan Kickboxing Championship held in Peshawar in 2004.



Shahid Tariq Masih's Profile
Age (Years): 27
Sport: Boxing
City: Rawalpindi
Weight(Kgs): 65
Biography:
The kickboxing champion, Shahid Tariq Masih belongs to Rawalpindi.
Shahid is working as an instructor in a gym in DHA Rawalpindi. He also provides freelance fitness coaching.
His coach Muhammad Zahid says Shahid has plentiful capacity to win medals for the country in international events, if he gets sponsors.