Usman Wazeer makes bang with professional debut WIN in Dubai
Usman wins by a majority decision in his first professional boxing fight against Moroccan boxer Brahim Oubenais in the 4-round fight. The Asian Boy is supported by Amir Khan Promotions in making the international debut.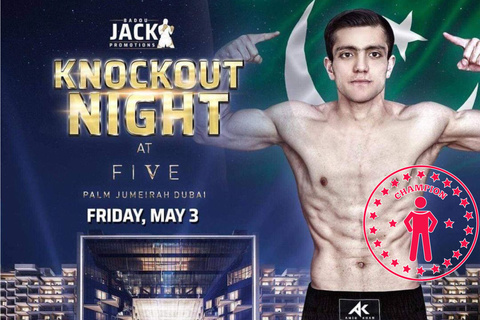 The young boxer with some exceptional skills which have impressed nonother than the King Amir Khan lived up to the expectations as he made a winning start on his professional debut at the undercard fight in Knockout Night Dubai.
Acting as a true champion already, the 19 year old Usman adorned the traditional Gilgiti costume as he entered the ring on the tunes of the national song "Har Dil ki Awaaz.... Pakistan Zindabad".
Nicknamed Usman "The Asian Boy" Wazeer faced slightly heavier opponent Brahim Oubenais of Morocco who weighed in at 135 pounds. Usman won the 4-round fight with a majority decision as Judge 1 ruled in at 39-38 in favor of Usman, Judge 2 called in a tie at 37-37, and Judge 3 ruled in at 40-38 to declared Usman Wazeer as the winner.
Usman is a prodigy from Amir Khan Academy in Islamabad and made it to the Badou Jack Promotions Presents Knockout Night - Dubai with the support of Amir Khan promotions.
Coming into the fight, Usman was already Pak Youth ranked no 1, HEC All Pakistan gold medalist, Quaid-e-Azam Games Bronze Medalist, Punjab boxing championship gold medalist and now an International Professional boxer with a 1-0 record.
Watch the Fight Highlights below as Usman Wazeer prepares for the fight and makes entrance in the ring only to be declared the winner:
Highlights from another angle: