Larkana Division bags 5 Golds at Sindh Sports Board Pakistan Boxing Tournament 2021
Larkana Division secured first place with 5 golds at one-day Sindh Sports Board Pakistan Boxing Tournament 2021 concluded successfully at Dragon Boxing Club Municipal Stadium, Larkana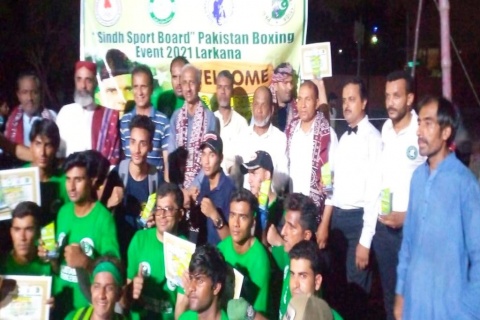 A one-day Sindh Sports Board Pakistan Boxing Tournament concluded successfully at Dragon Boxing Club Municipal Stadium Larkana in collaboration with Sindh Sports Department organized by Sindh Boxing Association.
After 20 competitions, Larkana Division secured first place with 5 golds while Mirpur Special Division claimed second place with 4 golds and Sukkur Division won third place with one gold.
The event had the presence of Javed Ahmad Khan Khoro, Resident Officer, Police Training Central, Larkana, Ejaz Ali Baledi, President, Divisional Boxing Association, Larkana, Secretary, Ashiq Ali Sheikh, Aqeel Ahmed Asif Baloch and Munawar Ali while the Chief Jury was Mr. Muhammad Younis Pathan.
Earlier in the one day workshop, boxers, athletes and volunteers were given lectures on the new rules of International Boxing Association and their application. Senior class boxers from Mirpur Khas, Sukkur and Larkana teams participated in the one-day tournament. Earlier, the organizing committee Mr. Ashiq Ali Sheikh thanked the special guest and all the teams and boxers participating in the tournament. He hoped that they would continue to cooperate with us in such programs in Larkana.
Divisional Olympic Committee Larkana Secretary Mr. Shafqat Hussain Makani has stated that athletes are ambassadors of peace and brighten the name of the country in the world. And they need to be committed to education and discipline as well as their sport.

The results of the finals are as follows:

| Weight | Boxer | Scores | boxers |
| --- | --- | --- | --- |
| 9 kg | Bahawal Larkana | 2-1 | Talha Sethi Mirpur |
| 52 kg | Mehrab Larkana | 2-1 | Majid Ali Mirpur Khas |
| 56 kg | Zeeshan Mirpurkhas | 2-1 | Arsalan Larkana |
| 60 kg | Amir Ali Larkana | 3-0 | Tanveer Sukkur |
| 64 kg | Nijat Sukkur | 2-1 | Zulfiqar Larkana |
| 69 kg | Mir Murtaza Mirpur Khas | 3-0 | Abid Ali Larkana |
| 75 kg | Samiullah Mirpur Khas | 2-1 | Arshad Ali Larkana |
| 81 kg | Naveed Larkana | 2-1 | Sajjad Sukkur |
| 91 kg | Qambar Ali Mirpur Khas | 3-0 | Narain Sukkur |
| +91 kg | Jamil Sukkur | 2-1 | Aqeel Ali Larkana |