Spirited Bahria Club fall short against Askari Alphas in Shohada-E-Pakistan Basketball Tournament 2019
Askari Alphas and Bounce Club beating their respective opponents, qualified to the semi finals of the 2019 Shohada-E-Pakistan Basketball Tournament which is being held at Arambagh basketball court in Karachi.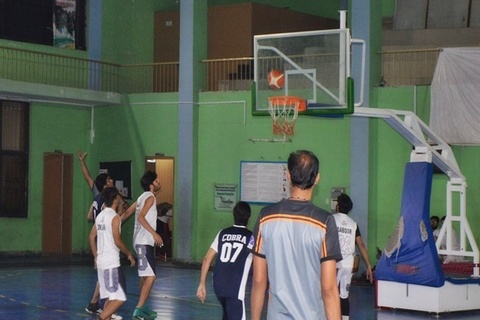 Shohada-E-Pakistan Basketball Tournament 2019
Arambagh basketball court
Askari Alphas and Bounce Basketball clubs have swiped their ways into the semifinals of Shohada-E-Pakistan Basketball Tournament 2019 as they both defeated Bahria and Nishter Basketball Clubs, respectively.
The first quarterfinal encounter was between Askari Alphas and Bahria Club, in which Askari Alphas players earned a stunning winning on the final score line of 58-51.
Big props go out to Shahmir Zaheer who put on an amazing shooting strategy, making 21 out of the team's 58 shots that en route to his game-high 21 points. Amazingly enough, he efficiently did his damage throughout the game on the floor.
However, it was not a one-man show as other players hit 16 points by Syed Bakhtiar and Anan: 13 sucessfuly dubs shots, for a blistering 100 percent shooting accuracy. They dominated on the glass with a 58-51 advantage with which it became easy for them to be able to run away with the game.
Aun Muhammad Akram, Hamad Waseem and Taimur Shahid with their 17, 14 and 13 points each, tried their best to earn a spot to their team in the semis but failed to do so as they fell short to their opponents just by seven points.
There was little proactive basketball coming from the side of Bounce Club and that prevented their doom against their Nishter Club in the second quarterfinal clash of the day, taking advantage and finishing the game in their favor on a 51-34 score line.
Zia Ahmed dipped far too often in the dry well shooting 14 successful points then more attempts from Saif Ullah Nosherwani and Muhammad Mubashir enhanced their scoring tally with 13 and 11 points. Mohsin Ali also chipped in with 10 more points.
For the losers, Talha Amjad scored their game high; 12 points while Muhammad Shabbar and Chenway each score 10 and 08 points.
Karachi Basketball Association (KBBA) and Pakistan Sports Welfare Association (PSWA) have organized this mega basketball tournament which is featuring competitions in two different categories of Seniors and Juniors in which as many as thirteen leading club's teams of the city of lights: Karachi are taking part to claim top honors.