Karachi Colts stuns Lecole Ballers with a defeat in Shohada-E-Pakistan Basketball Tournament 2019
Karachi Colts Basketball Club outscored Lecole Ballers Basketball Club to claim their first win in the on-going 2019 Shohada-E-Pakistan Basketball Tournament which is being held at Arambagh basketball court in Karachi.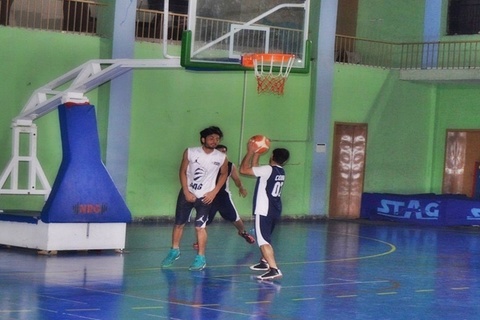 Shohada-E-Pakistan Basketball Tournament 2019
Arambagh basketball court
Karachi Colts Basketball Club was finally able to take home their first win when they shockingly outscored their strong opponent team Lecole Ballers Basketball Club on the final score line of 52-42.
Although it was not an embarrassing blowout for the losing team but their players lacked in stamina and strategy this time, giving space of advantages to be taken by their opponent team players, to which Karachi Colts boys benefited and scored 10 more points than them to claim the win of the first match of the day.
Safeer was unstoppable with his speed on the court as he scored 25 points along with Zain Mehdi and Asif Hussain who each contributed with 12 points. Whereas the losing side's star players Khizer Muneer, Umar Pasha and Athar Ameen altogether with their 20, 14 and 10 points were not enough to make their team win this encounter.

The second clash was battled between Bahria Basketball Club and Arambagh Basketball Club in which Bahria Basketball Club won their second match into the tournament on the final score-line of 40-36.
Great team work from both Taimur and Hamad Waseem played the winning role as both scored 16 and 12 points each and Muham­mad Akram also managed to score 9 points.
But on the other side, Arambagh Basketball Club have been facing falls from the start of this tournament even when their talented players like Ashraf Yahya, Saad and Hassan altogether are not able to earn their team any win until now in this tournament.
Karachi Basketball Association (KBBA) and Pakistan Sports Welfare Association (PSWA) have organized this mega basketball tournament which is featuring competitions in two different categories of Seniors and Juniors in which as many as thirteen leading club's teams of the city of lights: Karachi are taking part to claim top honors.