Iqra University crown SSB Trophy Inter-Collegiate Girls Basketball Tournament 2019 champion
Iqra University beat NED University by 40-39 in the final to claim the title of SSB Trophy Inter-Collegiate Girls Basketball Tournament at Aram Basketball Courts in Karachi.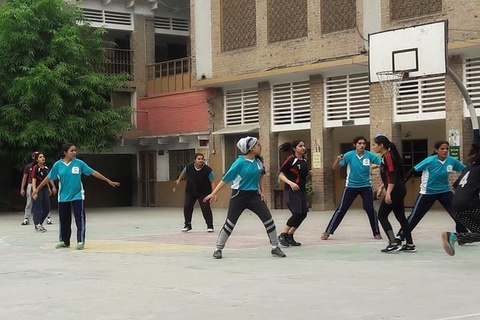 SSB Trophy Inter-Collegiate Basketball Tournament 2019
Agriculture University in Tando Jam and Arambagh Court in Karachi.
Iqra University and NED University were the two teams who were battling for the ultimate title gain of the tournament in which it was Iqra University's players who came out stronger than their opponents and won the tournament on a very close call of 40-39 score line.
Fatima Amin stood as the top scorer with her perfect 19 points while the other two players who contributed in their team's win were Aqsa and Dua Mehmood who each scored 10 and 9 points, respectively.
Whereas, Abeera Siddiq's 14 points along with her team mates, Marhaba and Rimsha's 9 points each earn the Runner Up spot for the NED University. Last but not the least, third position match was won by KMA College after the team defeated beat Government Commerce College on a convincing score lien of 36-25. Fatima was declared the Best Player of the tournament while Abeera won the title of Best Player in the Final match.
Assistant Commissioner Saddar Rana Muhammad Umar, was the honorable chief guest at the concluding ceremony who laster gave away trophies and cash prizes to the high achievers of the tournament. On the occasion, Rs. 25,000 were presented on behalf of DIG East, Aamir Farooqui to the referees association.
The Assistant Commissioner announced that Girls exhibition Hockey matches will be organized at Hockey Club of Pakistan Stadium while Girls Basketball and Kids Basketball exhibition matches will be organized at St. Joseph College from 23rd March in respect to Pakistan Day.
This championship was organized by Sindh Sports Board (SSB) in joint efforts with Karachi Basketball Association (KBBA) and Pakistan Sports Welfare Association. It has been named as "SSB Trophy Inter-Collegiate Basketball Tournament". The boys section of the same championship was also held which successfully concluded with Cadet College Pitaro standing as this year's champion team.