Iqra University to face NED University in SSB Trophy Inter-Collegiate Girls Basketball C'ship 2019 final
The 2019 SSB Trophy Inter-Collegiate Girls Basketball Championship moved to the final stage in which Iqra and NED Universities qualified to play and decide the title winner at Arambagh Basketball Courts in Karachi.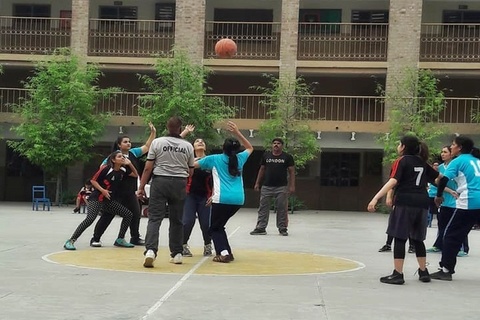 SSB Trophy Inter-Collegiate Basketball Tournament 2019
Agriculture University in Tando Jam and Arambagh Court in Karachi.
Iqra University and KMA College were the two teams battling to book a place in the final of the championship in which this semi-final match was won by the strong side of Iqra University as the players made sure to earn their team a chance to win this championship.
Iqra University dominated the match over KMA College just by 2 points as the score ended as 38-36 that is a very close win for the winning team. On the other hand, it is quite a major loss face by the opponent side as they lost the match just by 2 points difference.
Noor Fatima and Fatima Aamir proved ti be the players who scored the most points that is 9 and 7, respectively. While the much hard efforts by the losing team 's players were made by Arfa Ali who scored the most points for her team, 10. Hira Saleem and Talat Parveen contributed with 9 and 8 points respectvely. But the end moment 2 points left them the loss of this championship' title.
Where as the second semi final was taken over by NED University players who earned a much hard fought victory over Talat College on a 26-24 score line. 9 points each from both Bushra and Aimen, they together with well managed team work, earn their team the final spot in the championship. While the losing team efforts were not enough as they fel to NED University team just by 2 points and had to suffer a major loss even though their star players, Afifa and Mahnoor shot right into the basket 9 and 7 successful times, respectively.
The Senior Police Officer and former Basketball player Muhammad Nazir were the honorable chief guest who witnessed the semi-final matches being played along with KBBA President, Ghulam Mohammad Khan, Abdul Nasir and Afshan Fatima.
This championship has been organized by Sindh Sports Board (SSB) in joint efforts with Karachi Basketball Association (KBBA) and Pakistan Sports Welfare Association. It has been named as "SSB Trophy Inter-Collegiate Basketball Tournament". The boys section of the same championship was also held which successfully concluded with Cadet College Pitaro standing as this year's champion team.