Iqra & NED Universities win SSB Inter-Collegiate Girls Basketball Championship 2019 openers
The girls section of SSB Inter-Collegiate Basketball Championship 2019 begun yesterday with two teams marking first wins in the opening matches at Arambagh Courts in Karachi.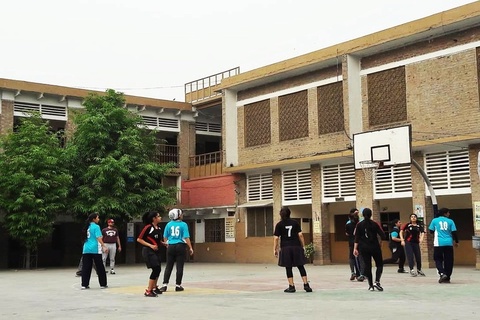 SSB Trophy Inter-Collegiate Basketball Tournament 2019
Agriculture University in Tando Jam and Arambagh Court in Karachi.
Several colleges and universities are participating in this mega basketball action belonging to which players from their respective teams are seen competing with all their might so as to win the ultimate title of the championship.
The opening match of the championship was played between Iqra University and Talat College in which both the players seen making a good start but as the match proceeded, Talat College girls were falling to the strong blocking and high speed from their opponents who then were declared the winners as the final goal went right into the basketball. Iqra College marked their first victory convincingly on a 32-26 score line.
Yusha's 12 points along with Nur Un Nissa and Dua's 8 successful shots helped the winning team most to earn this win in the very first match played into the championship. Whereas the losing team's players did made efforts to turn the table to their side but fell badly behind even with their star players' Afeefa, Sidra and Asam who each scored 8, 7 and 6 points but still could not earn their team the win in the game.
While the second encounter, had NED University and KMA College battling it out for their first win in which NED University stood the winner as they won on a close call by 32-30 points. The key players for the winning team proved to be Mar­haba who managed the most points, 10 and Nimra and Afeefa contributed with 8 and 6 points, respectively. The losing side did try their best as they suffer a close defeat of just 2 points difference but their players were seen playing with good strategy on the court throughout the game and gave quite a hard time to the winning team's players as Hira and Bushra each scored 8 points with Habiba's good assistance and 6 shots.
Shehzad Bhatti, Director Sports Government of Sindh, was the honorable chief guest who graced the event open. He said under the instructions of Sindh CM Murad Ali Shah, more and more healthy and sporting activities are being organised in Karachi and other cities of the province and they will go a long way in creating an atmosphere of peace and harmony.
This championship has been organized by Sindh Sports Board (SSB) in joint efforts with Karachi Basketball Association (KBBA) and has been named as "SSB Trophy Inter-Collegiate Basketball Tournament". The boys section of the same championship was also held which successfully concluded yesterday in which Cadet College Pitaro stands as this year's champions.