Barry's win Huaneng Shandong Ruyi Aibak Polo Cup 2018
Barry's outplayed Diamond Paints/Guard Rice by 8-3½ in the Huaneng Shandong Ruyi Aibak Polo Cup 2018 main final played at the Lahore Polo Club.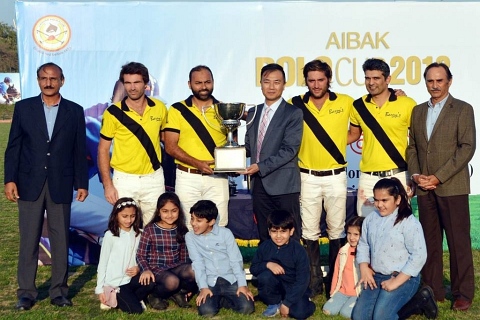 Huaneng Shandong Ruyi Aibak Polo Cup 2018
Lahore Polo Cup
Final of the tournament was played between Barry's and Diamond Paints/Guard Rice and it was Barry's who lifts the cup after a one sided encounter.
Juan Maria Ginazu (Tito) imposes all his efforts to get the title of Huaneng Shandong Ruyi Aibak Polo Cup for Barry's. Juan Maria showed outstanding polo skills and proved through his performance why he is considered one of the great polo players of the Argentina and world as well. Out of eight goals struck by Barry's seven were converted by Ginazu Tito and Bilal Haye converted one. From the losing side which had half goal handicap advantage all the three goals were scored by Macos Araya.
In the very first chukker, Both the teams fought well to earn the lead as Macos provided a good start to DP/Guard Rice by converting a 30-yard penalty but soon Ginazu Tito struck an equalizer to make it 1-1. By the close of the first chukker, Ginazu fired a field goal to finish it with Barry's having 2-1 lead.
In the second chukker, Ginazu took the charge and struck another beautiful field goal to stretch his team lead to 3-1. Macos then slammed a goal off 60-yard penalty to reduce the margin to 3-2, but Ginazu once again converted a 30-yard penalty to extend Barry's lead to 4-2.
The third chukker was fully dominated by Barry's as they banged in a brace, once again through Ginazu to further increase their lead to 6-2.
In the fourth and last chukker, Macos scored a field goal to reduce the margin to 6-3. But it was all which Diamond Paints/Guard Rice could get from the match, as Barry's changed their approach and launched an impressive attack, which helped them add two more goals in their total and also provided them 8-3 lead. This time, Ginazu and Bilal Haye contributed with one goal each.
International umpires Howard George Smith and Jason Dixon supervised the matches as field umpires while Miguel Luis Duggan was match referee.
Huaneng Shandong Ruyi (Pakistan) Energy (Private) Limited Vice President Mr. Li Xin graced the final as chief guest while Senior Manager Commercial Atif Zeeshan, Lahore Polo Club President Irfan Ali Hyder, executive committee members were also present on the occasion to witness the exciting final.