Punjab shines in second Quaid-e-Azam inter provincial games
Punjab wrapped up the second Quaid-e-Azam interprovincial games 2017 with an aggregate 151 medals including 74 gold, 46 silver and 31 bronze medals.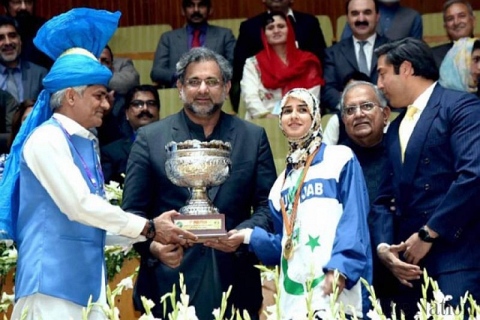 Quaid-e-Azam Inter Provincial Games 2017
Pakistan Sports Complex, Islamabad
Punjab wins the second Quaid e Azam games with a massive 151 medals while Balochistan secured the second position and surprised all with its efforts with 26 gold, 22 silvers and 38 bronze and total of 86 medals followed by KPK who ended on third with 94 medals including 21 gold, 24 silver and 49 bronze medals.

Sindh remained 4th with 20 gold, 26 silver and 43 bronze with overall 90 medals. Fata claimed the 5th spot with 7 gold, 13 silver and 22 bronze and total of 42 medals. Islamabad managed to get 6th place with 6 gold, 15 silver and 41 bronze total of 62 medals. Gilgit/Baltistan remained 7th with 4 gold, 7 silver and 16 bronze with total 27 medals and AJK ended on 8th spot on offer with 1 gold, 5 silver and 17 bronze total of 23 medals. A total of 159 gold, 158 silver and 257 bronze medals were distributed among the athletes with a total of 574 medals on offer.

Prime Minister Shahid Khakan Abbasi graced the event as chief guest who distributed prizes, cash and trophies among the winning teams, athletes and participants. Federal Minister for Inter provincial coordination, Mian Riaz Hussain Pirzada, Federal Minister for SAFRON, Abdul Qadir Baloch, Punjab provincial Sports Minster Jahangir Khanzada, ex-IPC Secretary Amjed Ali Khan, diplomats, DG PSB Dr AKhtar Nawaz Ganjera, DDG Facilities Agha Amjedullah, DDG Medical Wing Dr Waqar Ahmed, DDG Administration Mansoor Ahmed Khan, Assistant Director Hostels Malik Imtiaz Hussain, AD Swimming Pools Saeed Ahmed along with other dignitaries were also present on the occasion.
PM at the end of games while speaking to the closing ceremony appreciated the efforts of all the players and congratulated the winning teams. He added that through games we sent a clear message to international community that Pakistani's are peace loving nation and is completely safe to host international events. On the occasion, he also announced PM challenge cup football tournament to be played in Islamabad in next three months.
Mian Riaz Pirzada in his address welcomed the PM Abbasi and appreciated the administration of Pakistan Sports Board for conducting the games in such a great manner. He said about 37000 athletes and officials participated in the games and the aim of these games was to promote the soft image of Pakistan and peace and harmony among the people and provinces.