Artema Medical, Newage winners in Shoe Planet Polo Cup
Black Horse Paints/Artema Medial and Newage won their matches on the day 2 of ongoing Shoe Planet Polo Cup at Lahore Polo Club.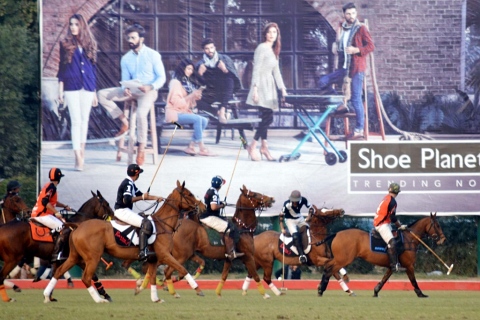 Shoe Planet Polo Cup 2017
Lahore Polo Club ground
The two chukker 1st match was played between Black Horse Paints/Artema Medical, Dawood Group and Sakuf under the American system. Black Horse Paints/Artema Medical 1st defeated Dawood Group by 3-1 and then Dawood Group outplayed Sakuf by 5-1. Black Horse Paints/Artema Medical while routed Sakuf by 4-0 moved to the next round.

In the second match of the day, Newage with the combined effort of Adnan Jalil Azam and Shah Shamyl Alam ousted Diamond Paints by 10-4½. Both Adnan and Shamyl hammered in a hat-trick apiece in their team's triumph while Alman Jalil Azam and Ahmed Zubair Butt contributed 2 goals each. Diamond Paints started the game with a handicap advantage of half goal only managed to score 4 goals against Newage. Mir Huzaifa contributed a brace while Mir Shoaib Ahmad and Mian Iftikhar Hussain added 1 goal each.

The 1st chakker of the match was equally maintained by both the teams with 2 goals each. Ahmed Zibair and Adnan Jalil added goals from Newage while Mir Huzaifa hammered both the goals from Diamond Paints. Newage charged up the game and converted 2 more field goals to take 4-2 lead. Newage then never looked back and pumped 3 more goals to widen their lead to 7-2.

Diamond Paints though succeeded in staging a comeback by hitting two field goals through Mir Shoaib and Mian Hussain Iftikhar to reduce the deficit to 7-4 but Newage aggressively fought back and banged in 3 more goals, 1 each by Almam Jamil Azam, Shah Shamyl Alam and Ahmed Zubair Butt to take undefeatable 10-4 lead which remained intact till the final whistle was blown. Ahmed Ali Tiwana and Taimur Mawaz Khan supervised the match field umpires.