Bilal's stirring performance helps Honda Chenab claim Winter Polo Cup title
Honda Chanab Motors won the Winter Polo cup after defeating Artema Medical/Black Horse Paints by 12-10 played at Lahore Polo Club Ground (LPG).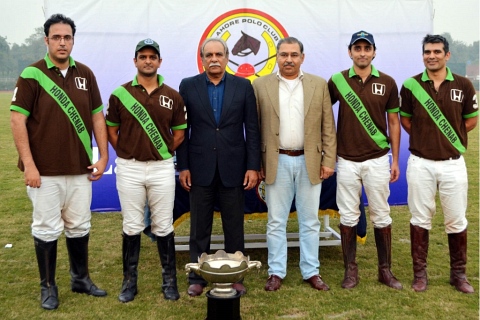 Winter Polo Cup
Lahore Polo Club ground
In the all-important main final, both the teams were fully charged and in the high-voltage match both the teams displayed beautiful game but in the end Honda Chanab were too good for Artema Medical team and clinched the final. Artema Medical/Black Horse Paints started the game with 2 goals handicap advantage. Both the teams started attacking on each other's goal post from the start of the game but Honda Chanab converted 4 goals and takes 4-3 lead in the end of 1st chakker.
The second chukker was though evenly poised as three goals each were scored by both the sides but Honda Chenab were still enjoying 7-6 lead. In 3rd chakker, Honda Chanab once again dominated the game and hammered 4 goals but Artema Medical added just 1 goal and Honda Chenab took 11-7 lead. Hamza Mawaz Khan changed the game plan and started playing aggressive polo, which paid dividend and he succeeded in hammering a hat-trick to reduce the deficit to 11-10 but in the dying minutes of last chakker Honda Chanab scored another goal and make the lead to 12-10 and finally won the main Final.
Bilal Haye has been tremendous with his pony and mallot throughout this polo season and this event too, he kept on firing fantastic goals for his team and in the final, he emerged as top scorer by smashing exceptional eight goals. Ahmed Ali Tiwana and Ghulam Mustafa Monnoo banged in a brace each. From the losing side, Hamza Mawazh Khan hammered double hat-trick while Abubakar Siddique and Ahmad Bilal Riaz scored one goal apiece.
In the subsidiary final match, Dawood Group emerged as winners against Newage. Dawood Group thrashed Newage by 10-3. Raja Arslan Najeeb hammered fabulous hat-trick and overall 5 goals for winning side while Abdullah Dawood contributed 3 goals. Omar Asjad Malhi and Mumtaz Abbas Naizi converted 1 goal each. From Newage, Alman Jalil Azam scored a brace while Shah Shamyl Alam added one.
Former Lahore Polo Club president Abdul Haye Mehta graced the final as chief guest and he, along with LPC president Irfan Ali Hyder, gave away trophies and shields to the winners. Former Lahore Polo Club president Abdul Haye Mehta graced the final as chief guest and gave away trophies and shields to the winners. LPC executive committee member Omar Sadiq, secretary Col (r) Shoaib Aftab, members and their families and a great number of polo lovers were also present on the occasion.