Dawood Group victorious in Winter Polo Cup match
Dawood Group displayed splendid show of Polo to outclass Bilal Steel in the Winter Polo Cup 2017 at Lahore Polo Cup ground.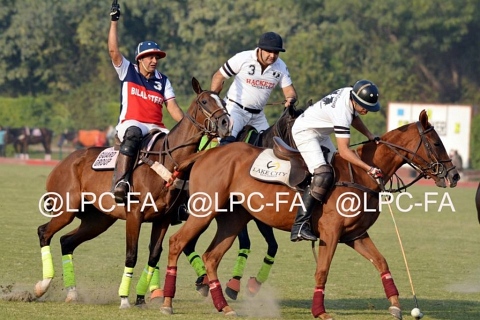 Winter Polo Cup
Lahore Polo Club ground
Dawood Group defeated Bilal Steel by 9-5 and win the match. Raja Arslan Najeeb with double hat-trick hammered 7 goals from the winning team while Main Abdullah Dawood and Omer Asjad Malhi added 1 goal each. From Bilal Steel, Ahmed Nawaz Tiwana hit a hat-trick while Taimur mawaz Khan and Rehan Babar contributed 1 goal apiece.

Match started with high pace as both teams attacked to each other post and converted two goals each side in the first chukker. Both the teams continue displaying good show in the 2nd chakker as well and added 2 more goals and made the score 4-4. After that in the 3d and 4th chukkers, Dawood Group overcomes Bilal Steel team and converted 5 more goals to make it 9-4 while in the dying minutes of 4th chukker, Bilal steel added 1 more goal to make the end score 9-5.

Lahore Polo Club president Irfan Ali Hyder, executive committee members Ahmed Nawaz Tiwana, Saqib Khan Khakwani, Secretary Col (r) Shoaib Aftab, members, their families and a good number of polo lovers were present on the occasion and enjoyed the high-voltage match.
To more matches to be played on Thursday as Diamond Paints will take on Newage in the first match of the day at 2:00 pm while Porsche will vie against Artema Medical/Black Horse Paints in the second encounter at 3:00 pm.