Gaddafi Stadium
Gaddafi Stadium, Qazzafi Stadium or Qaddafi Stadium are three spelling variations used internationally and in Pakistan where this stadium is located. It was previously known as Lahore Stadium. It is a cricket playing ground in Lahore, Pakistan.
It was designed by famous architect and engineer Nasreddin Murat-Khan, and constructed by Mian Abdul Khaliq and Company in 1959. Since the headquarters of the Pakistan Cricket Board (PCB) is located at the stadium, the stadium automatically becomes the Pakistan national team's home ground.
This stadium was renovated for the 1996 Cricket World Cup when it hosted the final.
Capacity
The stadium is operated by the Lahore Regional Cricket Association and has a capacity of 27,000 seats. The stadium is one of the major ones in Pakistan and is famous for hosting the 1996 Cricket World Cup final., for which it was also renovated.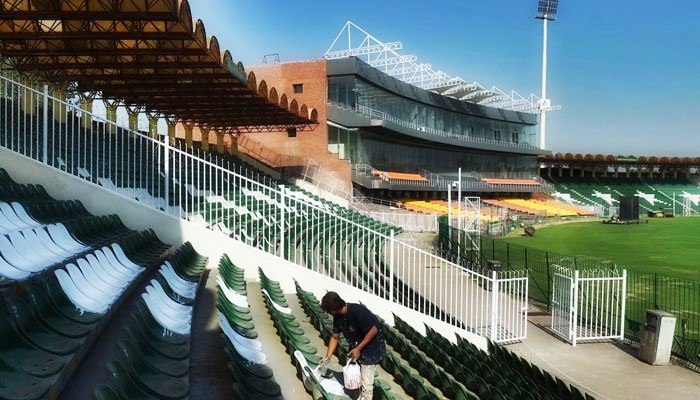 History
Originally Lahore Stadium, the ground was renamed in 1974 in honor of the former Libyan leader Colonel, Muammar Gaddafi following a speech he gave at the 2nd Organisation of the Islamic Conference meeting in Lahore in favor of Pakistan's right to pursue nuclear weapons.
In 1995–96, the Gaddafi Stadium was renovated by architect Nayyar Ali Dada - who is qualified from National College of Arts Lahore. Dada's redesign was done in the Mughal style, with red, hand-laid brickwork and arches. Dada also had plastic seating installed in place of the existing concrete benches. The lower portion under the stands was enclosed and converted to shops for boutiques and offices. Gaddafi Stadium was the first in Pakistan to be equipped with modern floodlights having their own standby power generators.
On 23rd October 2011, Pakistan Cricket Board (PCB) discussed renaming the stadium following the death of Gaddafi, to support the new government in Libya. The Punjab Olympic Association made a similar request in late October 2011 to the provincial chief minister. As of April 2012, however, it does not appear that the stadium's name will be changed after all.
Gaddafi Stadium being the largest cricket stadium in Pakistan used to have capacity of 60,000 spectators, until the redesigning of its enclosures reduced the capacity to 27,000.
Major Matches
The Gaddafi Stadium hosted its first test match between Pakistan and Australia in 1959, the year the stadium was established.
The stadium hosted its first major tournament in the 1987 Cricket World Cup where it hosted two matches. The 1996 Cricket World cup was a major one for the stadium where it hosted four matches including the finals.
The stadium has also been a witness to the massive rivalry between India and Pakistan. India played the hosts here on two occasions. The first ODI came on 21st March 2004 and the second ODI was played on 13th February 2006.