Shahid Khan Afridi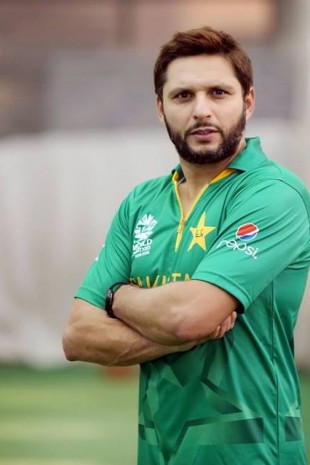 Achievements
Afridi held the fastest ODI century record for almost 18 years; he scored 100 of just 37 balls against then world champions Sri Lanka.
He had the record for the fastest century in ODI for 19 years until Corey Anderson and AB de Villiers broke it. (Anderson 36 balls (2014) and de Villiers 31 balls (2015)).
He was 16 years old. He scored a 100 against India in India of just 45 balls and another one against Bangladesh of just 57 balls.
In 1998, he took 5 for 52 against Australia in his Test Debut.
Afridi has scored 2nd fastest fifty in ODI cricket off just 18 balls, and he has done 4 times of 18 balls, 2 times of 19 balls and a few more times on 20 and 21 balls.
He has the highest striker rate in ODI cricket history for a player who has scored 1000 or more runs. (116.26)
He has more than 400 sixes to his name in ODI cricket which is by far the most for a player, and this is one record which won't be broken for years to come.
Most man of the match awards for Pakistan (33) Afridi is the only player to have scored a fifty and took 5 wickets in a game on three separate occasions.
His bowling performance against West Indies where he took 7 wickets for just 12 runs is the second best bowling record in a match in the history of ODI cricket. Most ODI matches played by a Pakistan player (380) 3rd Heights wicket-taker in ODI cricket from Pakistan.
Only player to have scored more than 1000 runs and 80 wickets in T20 international cricket. Best bowling figures by a captain in world cup history.
The only player who took 5 wickets + scores a fifty-three Shahid Afridi Smashed 158 meters long Six, Afridi hit it against South Africa in 3rd ODI at Johannesburg on March 17, 2013.
He has the worst batting average of 23.31 among 87 batsmen who made more than 4000 ODI runs.
Only Pakistani and 2nd Player in Cricket history, Who Scored More Than 10,000 Runs and Took 500 plus Wickets in International Career. 1716 test runs, 7619 ODI's runs and 1072 T20 runs.
Shahid Khan Afridi's Profile
Age (Years): 43
Sport: Cricket
City: Karachi
Weight(Kgs): 77
Teams:
Major Teams Played:
Pakistan
Asia XI
Deccan Chargers
Dhaka Gladiators
Edmonton Royals
Fly Emirates XI
Griqualand West
Habib Bank Limited
Hampshire
ICC World XI&a
Biography:
Shahid Afridi popularly known as Boom Boom, is a former Pakistani cricketer and former captain of the Pakistan national cricket team.It can safely be said that cricket never has and never will see another like him. To say he is an a successful all-rounder, Afridi was respected for his consistent bowling that relies on change of pace rather than spin, but drew greater attention for his aggressive batting style. Afridi was the world record holder for the fastest ODI century in 37 deliveries and holds the distinction of having hit the most number of sixes in the history of ODI cricket.
For a start, the slant of his all-round skills only became clear ten years into his career; he is a leg-spinning allrounder. Variety is his calling and as well as a traditional leg-break, he has two googlies, a conventional office and a lethal faster one, though this is increasingly rare. All come with the threat of considerable, late drift. He fairly hustles through overs, which in limited-over formats is a weapon in itself and the package is dangerous. But forever associated with him will be his madcap batting, the prospect of which is a crowd-puller the world over. He is a compulsive basher, literally unable to control his urges to slog every ball that comes his way, and not much of it is classical. Often spectacular results are at hand; he owns, for example, two of the fastest ODI hundreds, including the fastest one ever in his first innings ever at the age of 16.
His career strike rates are nearly unmatched. But mostly, anywhere in the order, consistency has been missing. Despite a healthy Test career, he gave up on the format in 2006, pre-empting men such as Andrew Flintoff, to maximise fully a limited-overs career. He came back, in inimitable fashion, for one Test only, as captain no less in 2010. A loss and two slogs meant he re-retired immediately after. Twenty20 is something he could've been made for and he is among the most lethal players of the format, having been player of the tournament for the inaugural edition of the World Twenty20 in 2007 and led Pakistan to the title two years later with matchwinning all-round hands in the semi and final.
Maturity has often threatened to gatecrash his career and leadership was a just reward, though it was taken away from him in 2011 after an immature spat; another retirement was announced but none of it will change much a truly unique career. In July 2010, Afridi announced his retirement from Test cricket. After the 2015 ICC World Cup, he retired from ODI cricket as well. In February 2017, he announced his retirement from T20Is and international cricket.However, in April 2018, he was named in the Rest of the World XI squad for the one-off T20I against the West Indies, which was played at Lord's on 31 May 2018.He went on to captain the side, aften Eoin Morgan had to withdraw due to injury.
He has a charity foundation called Shahid Afridi Foundation which provides healthcare and education facilities to the required people.