Maaz Khan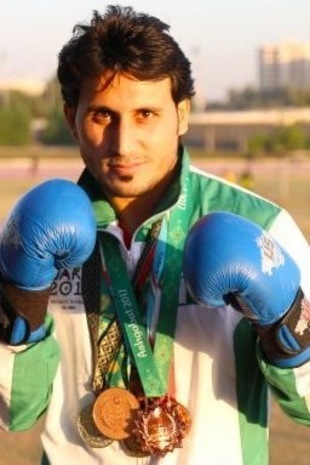 Achievements
Maaz holds the title of National champion from 2007 to 2020.
2010:
Khan won a gold medal at the 11th South Asian Games held in Dhaka, Bangladesh, in the Sanshou 65 kg category.
Won Silver medal in 2nd Pars Cup International Wushu Championship, Iran.
Bronze medal in 5th Pars Cup International Wushu championship 2015, Iran.
Khan won a gold medal in wushu at the 2016 South Asian Games in India in the 70 kg division.
Khan won a silver medal in wushu at the 2017 Islamic Solidarity Games in Baku, Azerbaijan.
He won a bronze medal in kickboxing at the Asian Indoor and Martial Arts Games in Turkmenistan.
2018:
Maaz Khan has won a silver medal in the 1st Shanghai Cooperation Organization International Wushu Sanda Tournament being held in Chongqing, China.
Gold medal in 4th South Asian wushu championship, Lahore.
Bronze medal in 7th Pars Cup International Wushu Championship, Iran.
2019:
Khan won gold in 13th South Asian Games, Nepal December 2019
Silver medal in 2nd Shanghai corporation organisation international wushu championship 2019, China
Maaz Khan's Profile
Age (Years): 33
Sport: Wushu
City: Karachi
Weight(Kgs): 75
Teams:
Pakistan Wushu(National Team)
Karachi Port Trust (KPT)(Department team)
Biography:
Pakistan's top Wushu fighter and three-time South Asian Games gold medalist Maaz Khan hails from Karachi, the largest city in Pakistan, and the fifth-largest city proper in the world.
The captain of Pakistan's national Wushu team, Maaz, is an employee of Karachi Port Trust (KPT), has started playing Wushu since 1997 and he plays in 70 and 75 kilograms weight category.
Starting his career as an amateur boxer, Maaz got national titles in both junior and senior categories in the sport. But after a brief stint in boxing, Maaz switched over to Wushu more than a decade ago and has been the main hope of the country in international circuit in the sport.
"It's my desire to become a world champion and I have the ability to do so. If you check the record, I lose to a world champion narrowly. I need state support," Maaz told.
Maaz lives in a joint family with his wife, two kids, parents, and siblings. He got married when he was only fifteen.