Abdul Khaliq Achakzai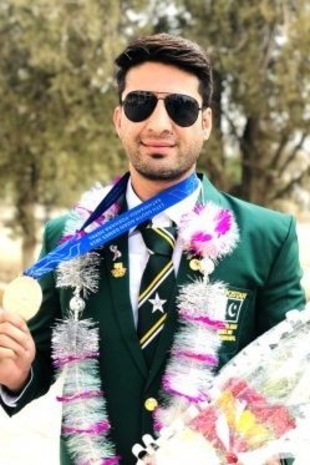 Achievements
Abdul Khaliq Achakzai earned his first gold medal at First Peace And Friendship Wushu Cup 2014.
He then won his second gold at West Asia Wushu Championship 2015.
In the year 2016, he collect three more gold , first in Pak China Friendship Cup Wushu Championship, then at the 6th Pars Cup Wushu Championship and the last in Three Nation International Wushu Championship.
Achakzai is also a gold medalist of International Wushu Championship 2017.
Khaliq Achakzai clinched three gold medals in the year 2018 with his exception skills in the following events:
- International Wushu Championship China 2018.

- South Asia Wushu Championship 2018.
- PAK Afghan Friendship Cup Wushu Championship 2018.
While the only bronze medal victory is at the South Asian Games 2019.

Abdul Khaliq Achakzai's Profile
Age (Years): 24
Sport: Wushu
City: Chaman
Weight(Kgs): 56
Clubs:
Pakistan WAPDA
Teams:
Pakistan Water and Power Development Authority (WAPDA)
Biography:
Abdul Khaliq Achakzai is an Wushu athlete that hails from Baluchistan and is currently playing for Pakistan WAPDA.
He start practicing Wushu in the year 2007 and so far, has collected a total of 10 golds and a bronze to his medal tally at international events while he has been six times National champion.