Nasir Iqbal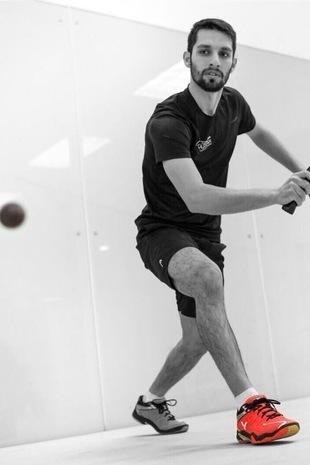 Achievements
2020:
• Nasir Iqbal clinched his first PSA title since 2015, when he won Sindh Open Squash Circuit-I 2020.

• Meraj Ltd. Sindh Open 2020 Squash Circuit-II Champion.
• Talented Nasir Iqbal added another feather in his cap by winning Malka Foods, Sindh Open 2020 Squash Event- Circuit –III title.
• Nasir Iqbal grabbed fourth PSA title in a row as he won the $1500 Sindh Open Squash Circuit-4
• One Step Diagnostic Sindh Open Squash Circuit-5 Champion.
• Winner of PSF Balochistan Squash Satellite Tournament 2020.
• Nasir claimed 7th consecutive PSA title when he won the $1000 PSF-Punjab Satellite Squash Tournament 2020.
• Nasir won 8th consecutive PSA title when he claimed the PSF-KP International Satellite Squash Tournament 2020.
2016:
• Gold medal in the individual squash category of the 2016 South Asian Games.
2015:
• Iqbal earned his first PSA M15 title at the Pakistan International Circuit.
• Nasir Iqbal clinched the title of the $25,000 President Gold Cup International Squash Tournament 2015 which moved him inside the top 40 players in the world.
2014:
• Won the Emerson Racquet Club Pro Series in January 2014.
2012:
• Nasir Iqbal grabbed the title of $10,000 Royal Lake Club Open 2012 in Malaysia.
2007:
• British Open 2007 junior under 13 Champion.
Nasir Iqbal's Profile
Age (Years): 29
Sport: Squash
City: Bannu
Weight(Kgs): 70
Teams:
Pakistan National Squash Team
Biography:
Nasir Iqbal from Bannu is one of the prominent squash players from Pakistan who started playing game at the age of 9 years. He is the only one from his family who is representing Pakistan on international level.
Nasir Iqbal is one of Pakistan's leading players on the PSA World Tour and joined in 2008. He reached a career-high world ranking of World No. 35 in February 2016.
Former Pakistan No 1 Nasir has completed his four-year ban, imposed by World Anti-Doping Agency (WADA) for using banned substance in 2016. Now, Nasir will utilize his training experience in USA and start playing PSA tournaments. He will give best results in the upcoming tournaments and get back to top position without wasting any time.
His aims are high and he is working hard to be in the top ten players of the World. He thinks that facilities provided for squash in Pakistan is not enough to equal the international level, squash is a very hard game and it wants lots of training, fitness and practice.

Coach: Tahir Iqbal, Jahanzeb Masood
Interests:
Reading Books and Movies
Nasir's introduction by his own self:
I would like to introduce myself and want to let the readers know about my background, I was from the background which was completely unaware of this beautiful and thrilling game of squash, even my entire city (Bannu) doesn't has neither a prominent squash player, nor any awareness of this game.
When I started my game I was too young, and won the prestigious British junior open and pioneer junior open under-13 category in England and Germany in 2007, as I don't remember about situations of that time but as long as I was growing up my father and my brother was endorsing only one thing to my mind, that we have great champions in this game, we ruled for more than 40 years on the world in squash, when I understood the value of this game and the worth of my squash legends in world, I started to fight like the "
son of lion
".
Looking at my green flag behind me in international matches I become more aggressive and energized to snatch the title for the honor of my Flag, I was so proud that I am having the flag which was elevated to the top in about 13 world championships and more than 20 British open titles.
In the age of 17 I won professional senior title beating my most senior player in the event. Till that time I was completely unaware of each and everything that exist outside of the court, I was in search of hunt every time to tackle with in court.
But still I was not in the kind hands of Pakistan squash federation; I was just playing my home events because my father was a poor man he was not in position to send me abroad for international events that is why I was struggling to prove myself and to earn some kind of attention from federation.
But soon I came to know that pillars of squash have fallen down (legends retired), and they are busy in their own lives, own lives means away from squash, away from that game which was in their blood, which was transferred to them from their elders, but they failed to transfer it to their next generation.
I would say that: "In shaa Allah very soon Green flag will be at the top of the World rankings, Inshaa Allah very soon I will be an inspiration for my youngsters and Inshaa Allah I will lead my team from the front line to bring back the lost glory."