Noorena Shams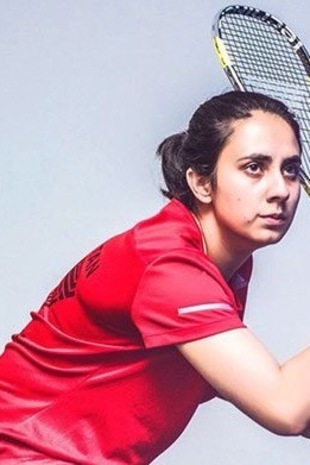 Achievements
Shams was named Pakistan's debating champion in 2011 and 2012 by the education ministry.
Shams was listed among the 100 Inspirational Women by Paparazzi Magazine in 2016.
She was on the list of 50 Influential Ladies of Pakistan in 2016 and was listed among the 24 Inspirational Figures of Pakistan in 2016 by the UNDP.
She also featured in the "BEAT ME" video by UNWOMEN, and was awarded with a Government Pendent of Recognition in 2016.
Shams works against harassment in sports and against harassment of female Muslim athletes around the world.
She delivered a TEDxTalk in 2016.
Shams received the Gul Jee Art Award several times.
She is a 3-time All Pakistan debating champion.
Shams was also invited by Malala Fund to address the UN Commission on the Status of Women in 2017, focusing on women's economic empowerment
On 18 Dec 2019, Noorena Shams has been appointed as the youngest member of the Khyber-Pakhtunkhwa Sports Management Committee.
Noorena Shams's Profile
Age (Years): 25
Sport: Squash
City: Lower Dir
Weight(Kgs): 56
Teams:
Pakistan National Squash Team
Biography:
Noorena Shams was born in Timergara, Lower Dir District, Pakistan. This multi-talented sportsperson ended up playing squash after trying her hand at cycling, cricket (in the guise of a boy) and athletics, despite living in a very conservative environment.
Noorena Shams is a good squash player and a confident speaker.
She raised the money to buy her first squash racket and shoes by selling her cartoons to the local newspaper. She lived in Lower Dir with her mother during the war, and her house was struck twice.

She overcame a number of hurdles to represent the country at many international sporting and social forums with the distinction of being the first female athlete from Pakistan to have spoken at the Human Rights Council of the United Nations about issues of harassment in sports.

Later, Noorena gave up sports to focus on her studies. Her mother was looking after her late father's business. This was also the time when turbulence started in Lower Dir and a lot of families migrated from the area. However, Noorena's family chose to stay back. Bomb blasts were not uncommon in those days.

Her school was bombed as well, resulting in the discontinuing of our education, she spent a year at home and started playing cricket with her brother and cousins. She had also played cricket with army soldiers in her compound. Younis Khan, Shahid Afridi and Sri Lanka's Lasith Malinga are her favourite cricketers, although she was an off-spinner.
Those troubled days came to an end, and Noorena was sent to Peshawar for studies. She stayed with her maternal aunt in Peshawar. While travelling between school and home she would watch boys playing at a cricket academy. And one day she visited that academy to seek admission and she somehow convinced the coach who, after giving me a boy's haircut, introduced her to the other boys there as Noor-ul-Islam.
Her teammates started calling her Noori. Even after they realised that she was a girl, nobody there made fun of her or humiliated her and she kept on playing cricket for nine to 10 months while touring various cities for matches.
But in 2011, when she wanted to appear for trials to be selected in a district-level women's cricket team, her mother put her foot down and objected to her ambitions.
She still continued playing in school and took part in athletics. By the time she finished her O-levels, she had bagged 63 medals in different athletics disciplines at school-level competitions. A few from district, national and international competitions, too.
Her love for sports kept on pushing Noorena. She thought about swimming as well, but had to surrender that thought. Squash was the next thing that she was attracted to.

In 2014, she got herself registered at the PAF Squash Academy in Peshawar. During this time she was continuously being told that she had crossed the learning age and couldn't play. There was no coach, no facility whatsoever but she didn't give up.
Once she saw Amir Atlas being warmly greeted upon winning an Asian title. That standing ovation which he got motivated her deeply. She then decided that she wanted to do the same for her country. Noorena started participating in local events but her performance was not too impressive.
Upon her return to Pakistan, Noorena was not allowed to continue her activities at the PAF Squash Academy because she had gone to the Hong Kong event without due permission. The objection was soon considered invalid because it was her right to compete there. Through this step she also opened the doors for local players to go and participate in events abroad.
In the meantime, she was invited to the United Nations Commission on the Status of Women for the 2017 edition in New York. "Malala Yousufzai was invited to the CWS-61 but she wasn't available due to her academic engagements. Then she was recommended by the Malala Fund.
Then she moved to the Mohibullah Squash Academy and started playing with boys there. In 2016, after acquiring a Professional Squash Association [PSA] membership, she submitted an entry for the PSA Malaysian circuit-1 in Kuala Lumpur. She had to face a lot of hardship in getting a visa as her passport got misplaced during the process. She somehow got the new passport made, and later, after getting the visa, reached only a couple of hours before the first-round match of the tournament. At that time she was financially supported by singer Zeb Bangash.
Noorena's next international tournament was Bendigo Squash in Australia that was held in July 2017. Here she managed to improve on her record and reached the quarter-final stage, only to lose to Australia's number one player. She sold her photographic work to generate funds for the tour while Pakistan Super League's franchise Peshawar Zalmi also chipped in for her visa expenses.
She had a considerable amount of experience by then and she understood the shortcomings in her training and playing regime. She went to Australia again in November 2017 to participate in the Australian Open. She was then sponsored by an Islamabad-based businessman. From then on she started feeling at ease about her finances and was able to concentrate on her game.