Muhammad Rashid Naseem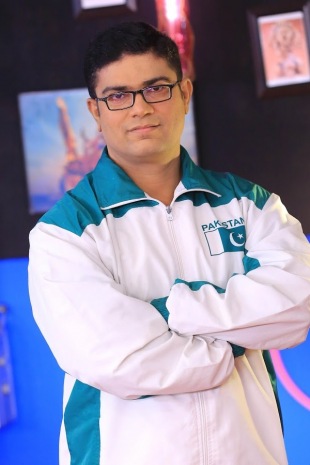 Achievements
Most bottle caps removed with the head in one minute (40)
A year later, he went on Italian television show Lo Show Dei Record to break his own record, achieving 61.
Most walnuts crushed by the hand in one minute (284)
Most watermelons crushed with the head in 30 seconds (49)
Most drinks cans crushed with the elbow in one minute (77)
Most spins of a fire staff in one minute (188) – yes, he can spin as well as smash!
As well as just using his fists and elbows as smashing instruments, he also holds many records using nunchaku and a Bo staff – both traditional martial arts weapons.
The fastest time to unscrew 10 bottle caps with a nunchaku, achieving a time of 17.82 seconds.
Muhammad Rashid Naseem seized another Guinness World Record by cracking over 256 walnuts with the help of his elbow within 60 seconds.
Muhammad Rashid Naseem's Profile
Age (Years): 31
Sport: Martial Arts
City: Karachi
Weight(Kgs): 60
Biography:
Rashid Naseem is Pakistan's very own martial arts Guinness world record holder.
Karachi-born has mastered the skill of setting new world records in the field of martial arts and till now, he has already registered 65 Guinness World Records in different forms.
"My target in future, I want to complete my 100 records." - Muhammad Rashid
His record-breaking journey began in 2013, he also trained his daughter, Fatima Naseem, to break a record too!
Muhammad doesn't just train his daughter, he is the founder and president of the Pakistan Academy of Martial Arts, where many of Muhammad's students have gone on to become record holders under his training.
Rashid urged government to immediately turned their attention towards him so he can achieve 100 Guinness World Records for Pakistan.