Jahanzeb Alam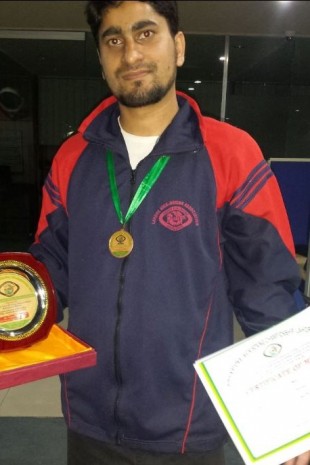 Achievements
1st Position in Intercollegiate District Kata (M.A.O Collage) Championship 2007
1st Position in District Weapons Fight Championship 2008
3rd Position in all Punjab inter DIST WUSHU Championship 2009
1st Position in Punjab Kick Boxing Association 2010
1st Position in Pakistan Fighting Championship 2011
1st Position in Tai Bando Karate Championship 2011
Jahanzeb Alam's Profile
Age (Years): 36
Sport: Martial Arts
City: Lahore
Weight(Kgs): 68
Clubs:
Shinaolin Martial Arts
Teams:
President Chiniot Kick Boxing Association 2009-2013
Govt MAO Collage (Karate and Athletic performance) from 2005- 2008

Biography:
Jahanzeb Alam is a proficient fighter from Lahore. He has started learning Karate in 2005, after a hard struggle he completed black belt in 2012.
He has started practicing martial arts after 2017. He is currently teaching the art of Karate to other passionate youngsters at Shinaolin Martial Arts Academy, Karachi.
He was the head coach at Cantt Grammer School in 2013.