Shams Ullah Khan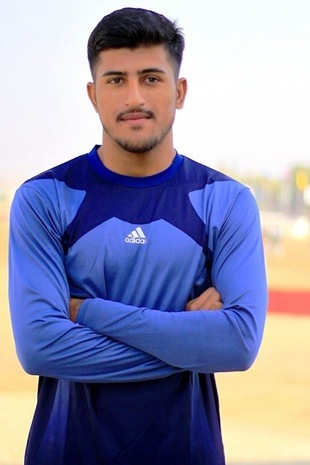 Achievements
2 gold & 1 bronze medals in All Karachi Athletics championship in 2017
Undefeated champion of ASICCSC (All Sindh inter cadet colleges sports championship) of Discus throws from last 3 years
3 Gold medals in shot put and discus throw and 4x100m relay race and 1 silver medal in 200m in All Karachi Athletics championship 2019
He also participated first time in 4th National youth & junior championship Lahore 2019 and got 4th position in the Discus throw and shot put in youth category.



Shams Ullah Khan's Profile
Age (Years): 21
Sport: Athletics
City: Karachi
Weight(Kgs): 70
Clubs:
Pakistan Steel Cadet College Karachi
Teams:
Pakistan steel cadet college Karachi
Sindh Team
Biography:
Shams Ullah Khan is an energetic athlete that belongs from Karachi.
He studies at Pakistan Steel Cadet College in Karachi. He is an athlete of 100m 200m and Shot put and discus throw. He represents the Sindh team in national events.
He is also the best volleyball player in the college.