Nida Khan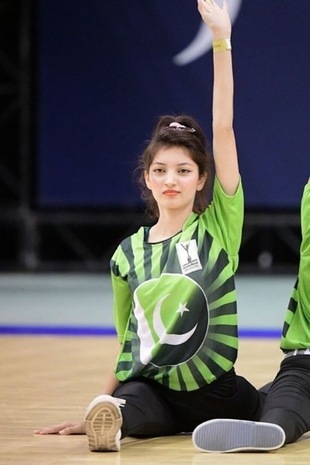 Achievements
National Gold Medalist in Gymnastic
21 Gold Medals, 9 Silver & 1 Bronze (2010-2015 in Gymnastic & Aerobics)




1st Position in Gymnastics at Punjab Olympic, Lahore 2010
First position in aerobics at Govt.Islamia College for women Lahore (2010-12)




1st Position in Gymnastics at Punjab Olympic, Lahore 2011





1st Position in Gymnastics at Punjab Olympic, Lahore 2012





Gold medal in Gymnastics at Lahore Distt.Women Gymnastics Championship 2013
1st Position in Punjab Olympic, Lahore 2013 in Gymnastics.
Gold medal in Gymnastics at National Gymnastic Championship 2013
Silver medal in Gymnastics at National Gymnastic Championship 2013
First position in aerobics at Lahore Distt.Aerobics Championship 2013

Best Gymnast of Govt. Islamia College for Women Lahore (2012-2014)
First position in aerobics at Govt.Islamia College for women Lahore (2012-14)
All Punjab Best academic and sports award 2014
Performed aerobics in Punjab Youth Festival Lahore 2014
Gold Medal in All Pakistan Quaid e Azam best performance




Performed aerobics in Punjab Youth Festival Lahore 2015
Leader of Aerobics at Govt. Islamia College for women Lahore (2013-15)




Pakistan Best Performance Medal 2016
1st Position in athletics at G.C University Lahore.

4th Position in Japan Open Asia Cheerleading Competition
Nida Khan's Profile
Age (Years): 26
Sport: Athletics
City: Lahore
Weight(Kgs): 46
Teams:
Pakistan cheerleading(National Team)
Pakistan Gymnastics(National Team)
Pakistan Aerobics (National Team)
Govt.Islamia College for Women Lahore Gymnastics team
Biography:
Nida Khan is an elastic gymnast and most high-grade performer of aerobics, that belongs from Lahore. She got gymnastics training from China.
She has studied at Government College University Lahore for intermediate degree and achieved a masters degree in Physical Education & Sports Sciences.
She is an associate secretary of Punjab Gymnastics Association. Nida is a brilliant Coach & Trainer at Govt Islamia College for Women Lahore Cantt also a Vice president of Lahore district Gymnastics association Women wing.
She has started cheerleading in 2016 and in 2019 she participated in a first international cheerleading competition and got 4th position in it.