Faisal Fayyaz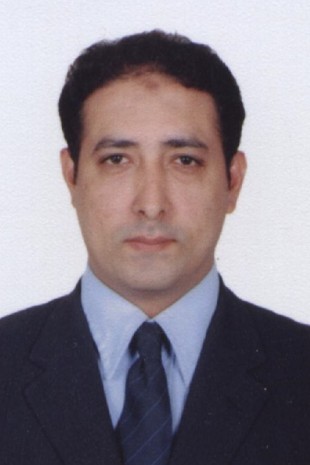 Achievements
• Received Special Award of Henry Lal Gold Medal & Roll of Honor from General Pervaiz Musharaf, President & Chief Executive of Pakistan on 4th May in a centennial convocation of FC College, Lahore
• Won Grand Prize Disk Stakka in Microsoft Pakistan Developer Conference 2005 in Karachi & received an award from the acting president of Pakistan, Chairman Senate, Mian Somro.
• ROLL OF HONOR from Govt College Lahore
• ROLL OF HONOR from Govt college of physical education for men, Lahore
• ROLL OF HONOR from Forman Christian College Lahore
• University Blue and Gold Medal from Punjab University
• Nomination in South Asian Championship India Pataila, Jesulmir 1999 & commonwealth games 2002
• 5 times Best Gymnast of Punjab University 1997 to 2003
• Gold Medal in All Pakistan Khushhal Gymnastics Championship in Karachi 1999
• Bronze Medal in National Gymnastics Championship 1997 Peshawer
• 1 silver & 2 Bronze Medal in National Games 1998 Peshawer
• Best gymnast of 1st, 2nd and 3rd All Pakistan Inter-University Gymnastics championship from 2000-2003
• Black Belt 1st Don – Pakistan Tenshinkan Karate Federation
• Appreciation letter from Pakistan National Accreditation Council of Pakistan, Ministry of Science & Technology, Ministry of Youth Affairs, Punjab University, Pakistan Gymnastics Federation, Forman Christian College, Govt Physical Education College,
• TV morning Exercise program was recorded & broadcasted during the period of 2002 to 2005
• Nominated in 2003 as a Project Manager of Human Anti-Narcotics Drugs Society(HANDS Int'l)
• Nominated in 2009 as a Vice President of Human Anti-Narcotics Drugs Society(HANDS Int'l)
• Olympic Solidarity - Gymnastics Coaching and Administration Course by International Olympic Committee(15 days)
• Project Management Professional (PMP) Preparation Course from PITB, PMI & Syscomp (35 Hrs awarded) & member of Project Management Institute, USA PMI ID No:1107403 http://www.pmi.org
• CAIE Face facing training for IGCSE & O Level Computer Science 2210-0478 by British Council & Cambridge Professional Development 2018 & 2019
• PUCIT Teacher training program
• Sports Biomechanics course by Punjab Olympic Association
• Teacher training by Special education department of Punjab
• Sports medicine and injury course.
• Induction Course by Beaconhouse School System SGO-II
• Developing Reflective Practitioner's by Beaconhouse School System SGO-IV
• CoRT Thinking Tools (Edward Bono) by Beaconhouse School System SGO-IV
• Menor in Action by Beaconhouse School System SGO-IV
• British Council online courses – Partner Schools Global Network - Understanding lesson planning, Understanding thinking skills, Understanding lesson management 3, Understanding lesson management 2, Engaging with professional development – the reflective teacher, Engaging with learning technologies – cyber well-being, Understanding lesson management 1, Engaging with assessment for learning
• Exam 70-461: Querying Microsoft SQL Server 2012 (Preparation + Training )
• Exam 70-462: Administering Microsoft SQL Server 2012 Databases (Preparation + Training )
• Exam 70-463: Implementing a Data Warehouse with Microsoft SQL .Server 2012 (Preparation + Training )

Faisal Fayyaz's Profile
Age (Years): 46
Sport: Athletics
City: Lahore
Weight(Kgs): 72
Clubs:
Muslim Gymnastics & Karate Centre
Teams:
Pakistan Athletics (National team)
Higher Education Commission(Departmental team)
Punjab Division
Govt College, Lahore
Forman Christian College, Lahore
Govt College of Physical Educat
Biography:
Faisal Fayyaz has elected as Associate Secretary of Pakistan Gymnastics Federation and Treasurer of Punjab Gymnastics Association and Vice President of Lahore Division Gymnastics Association & Lahore District Gymnastics Association.
He has MPhil-Total Quality Management (TQM) degree and earlier he did M.Sc Computer Science from PUCIT. He has attended Punjab University for his bachelor's degree & did MA in Physical Education from Govt College of Physical Education for Men, Lahore.
He was 5 times best gymnast of Punjab division and Punjab university, he represented Punjab, HEC and Punjab University in different National events as a gymnastics player, coach and technical official. He is the founder and President of Sports promotion society of Pakistan.
Professional Career:
Faisal served as a Director of Physical Education at KIPS group of colleges (Boys & Girls). He has experience in organizing sports events, seminars, workshops, awareness campaign, through his technical and educational expertise.
Nowadays he is working as a Cambridge & IGCSE 2210/0478/9629/9608 O & A level Computer Science Teacher in Beaconhouse School System, Valencia, Lahore.
He also served as Project Manager in an Adept General Trading LLC, DUBAI, UAE. He organized 1st Annual Project Software Exhibition 2005 (APEX 2005) in PUCIT, Punjab University where Chancellor of PU & Governor of Punjab Khalid Maqbool inaugurated the opening ceremony.
He received a special award of Henry Lal Gold Medal & Roll of Honor from chief executive & president of Pakistan, General Pervaiz Musharaf. He received Roll of Honor from Govt College Lahore, Govt Physical Education College Lahore, Punjab University & FC College Lahore. He has received the grand prize from the president of Pakistan, Mian Somro in All Pakistan Microsoft Development Conference(PDC) 2005 at Karachi.
He served as a Project Manager in Punjab University from Aug 2003 to Dec 2008 where my overall responsibility included strategic planning and direction of the technology work. My IT skills are strong enough to help me to do computer work easily.
Educational Background:
MPhil Total Quality Management
MSc. Computer Science
MA Physical Education
MA in Economics
MBA
Graduation from Government College, Lahore