Gymkhana Golfers takes lead in Governors Cup Golf Championship
Gymkhana's Hamza Asif, Ammad Nadim Raza Khan and Hussain Hamid of Royal Palm Golf Club excelled in the first round of on going Governors Cup Golf Championship at Lahore Gymkhana Golf Course.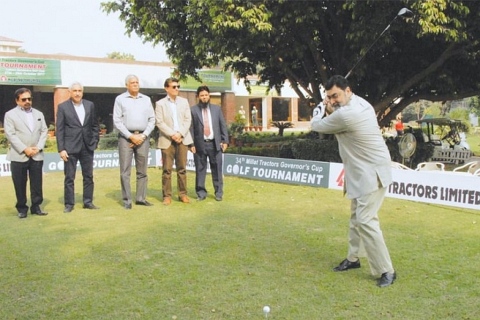 Millat Governors Cup Golf
Lahore Gymkhana Golf Course
The four competitors are all youngsters who exhibit impressive flair during their golf outings and at this prestigious championship, certainly appear all charged up to perform superbly in the race for the 34th Governors Cup Golf Title.
Just one shot back behind the four leaders is Nauan Nayyar of the host club and his chances of playing with authority over the remaining two rounds cannot be discounted. Other local talents who did well are Suleman Akhter, Ahmed Jabran and Salman Gulzar.
Finishing the first round with an amazing score of net 69, these three are also poised for a crack at the title. The leaders admit that it was a challenging day at the Lahore Gymkhana Golf Course but they managed excellence through accurate tee shots and short game.
Nineteen ladies will also enter the contest on Saturday and include names like
Ghazala Yasmeen
Parkha Ijaz
Remsha Ijaz
Suneyah Osama
Zahida Durrani
Shahzadi Gulfam