Unseeded Ahsan Javaid stuns three times national champion Muhammad Sajjad in National Snooker C'ship 2020
Seeded brothers, Muhammad Sajjad and Muhammad Ijaz, besides holder Muhammad Bilal and fifth seed Sohail Shahzad were knocked over in the pre-quarter-finals of the Jubilee Insurance 45th National Snooker Championship 2020 here at the Karachi Gymkhana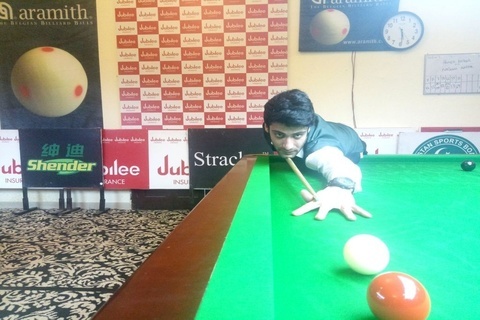 On a day of fluctuating fortunes, quartet of seeded cueists were knocked out as the quarter-finals witnessed four century breaks in the 45th National Snooker Championship at Karachi Gymkhana.
Those who met their fate are second seed and holder Mohammad Bilal, fourth seed and the former national champion Mohammad Sajjad, fifth seed Sohail Shahzad and sixth seed and Sajjad's sibling Mohammad Ijaz.
Top seed and reigning world champion Mohammad Asif continued his winning run intact by getting the better of Bilal in convincing fashion 5-2 (26-100, 73-41, 69-26, 7-90, 75-22, 69-8, 65-21).
A former national U-21 champion and unseeded Muhammad Ahsan Javaid created the biggest upset of the event so far by edging out fourth seed and three times national champion, Muhammad Sajjad, whose younger brother, Muhammad Ijaz, was shocked by Ali Haider, another unseeded cueist. Ahsan struggled to whip Sajjad in the fully stretched battle 1-79, 135-0, 0-132, 0-80, 89-5, 66-65, 66-62, 42-63, 74-1. The triumph includes two century breaks of 109 by Ahsan and 100 by Sajjad.
Another former national U-21 champion and a Punjab qualifier, Ali Haider sent Ijaz packing 5-1 (13-59, 70-29, 67-1, 61-50, 70-40, 70-31) to storm into last eight.
Third seed Asjad Iqbal cruised to 5-2 victory over former Asian Games team event bronze medallist Sohail the scores being 72-38, 28-72, 87-18, 67-49, 62-32, 18-65, 86-23.
Seventh seed Babar Masih blanked Mohammad Saleem straight (87-13, 82-52, 71-16, 66-58, 116-2) while eighth seed Mohammad Naseem Akhtar halted the winning run of former national champion Hamza Akbar imposing to 5-1 victory. Naseem was home 55-35,130-7, 88-18, 72-46, 13-59, 69-33.
Mubashir Raza and former national champion Shahid Aftab who are trailing in the seedings, also joined the last eight fray. The former overcome Rambel Gul 5-3 while the latter won 5-2 over Zulfiqar A. Qadir.
Pre quarter-finals Results:
| Player | vs | Player | Score line |
| --- | --- | --- | --- |
| Ali Haider (Punjab/NBP) | def | Mohammad Ijaz (Punjab) | 5-1 (13-59, 70-29, 67-1, 61-50, 70-40, 70-31) |
| Mohammad Ahsan Jawaid (Punjab) | def | Mohammad Sajjad (Punjab/NBP) | 5-4 (1-79, 135-0, 0-132, 0-80, 89-5, 66-65, 66-62, 42-63, 74-1) |
| Mubashir Raza (Punjab) | def | Rambel Gul (Khyber Pakhtunkhwa) | 5-3 (72-33, 7-70, 60-28, 17-53, 3-59, 71-0, 68-49, 69-27) |
| Shahid Aftab (Punjab) | def | Zulfiqar A. Qadir (Sindh) | 5-2 (26-75, 64-51, 61-55, 44-33, 46-22, 63-5, 62-32) |
| Babar Masih (Punjab) | def | Mohammad Saleem (Khyber Pakhtunkhwa) | 5-0 (87-13, 82-52, 71-16, 66-58, 116-2) |
| Mohammad Asif (Punjab/NBP) | def | Mohammad Bilal (Punjab/SBP) | 5-2 (26-100, 73-41, 69-26, 7-90, 75-22, 69-8, 65-21) |
| Mohammad Naseem Akhtar (Punjab/NBP) | def | Hamza Akbar (Punjab) | 5-1 (55-35,130-7, 88-18, 72-46, 13-59, 69-33) |
| Asjad Iqbal (Punjab/NBP) | def | Sohail Shahzad (Sindh) | 5-2 (72-38, 28-72, 87-18, 67-49, 62-32, 18-65, 86-23) |