1st Gatorade Basketball Cup reaches final stage
Civil and National Basketball Clubs defeated their respective opponents in the semi-final games to book their places in the final of Gatorade Basketball Cup 2019 which is being played at Arambagh basketball court in Karachi.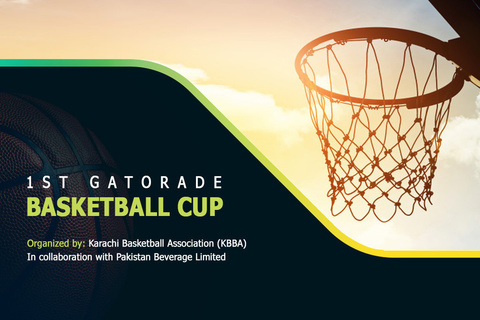 Gatorade Basketball Cup 2019
Armabagh Basketball Courts
Civil Basketball Club and National Basketball Club are the two teams that made it to the final of 1st Gatorade Basketball Cup, as they defeated their respective opponents in the semi-finals matches played yesterday.
National Basketball Club and Dow Basketball Club were up against each other in the first match of the day where the National team easily booked their spot in the final stage of the event with their star player, Hassan Iqbal, who guided his team towards the victory scoring game high 14 points.
Saad Salah Ud Din alongside Usman Khwaja added 12 points each, to finish the match on the final score line of 46-37.
For the losing side, Faizan Yousuf scored 13 points while Haris Khan scored 12 points and M Daiyal Khan managed to score 10 points but eventually failed to earn their team a spot in the final match.
The second semi-final clash saw Civil Basketball Club triumphing over Karachi Colts team by a difference of just one point, as the final score line stood 45-44.
Both team players started into the match aggressively, as they kept equalizing each others' score but the Colts' efforts fell just one points short of their opponents.
Main scorers for the winners stood: Hassan Ali (18 points), Faizan (14 points) and Humayun (11 points). While for Karachi Colts, Shariq Sulemain was the main scorer with 15 points and Rafay Salah Ud Din scored 11 points.
The final will be played today at 8 PM sharp where Shehzada Saleem will be the honorable chief guest, who will later distribute the prizes among the high achievers of the event.