Neighborhood Club successfully retains their title in 4th Essa Lab Basketball Tournament
The defending champions, Neighborhood Club, successfully defended their title by overpowering Omega Club in Essa Laboratories Basketball Tournament 2019, which concluded at Arambagh basketball court, Karachi.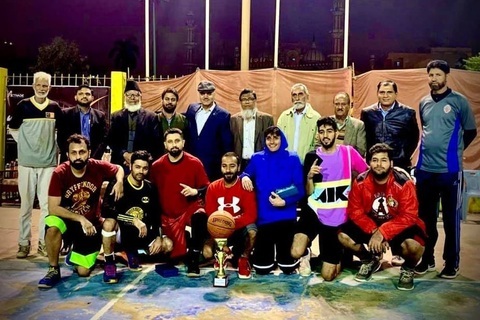 4th Essa Laboratories Basketball Tournament
Abdul Nasir Courts in Arambagh
The final of 4th Essa Laboratories Basketball Tournament 2019 was seen between the defending champions, Neighborhood Basketball Club and Omega Basketball Club, where the defending champions successfully defeated their opponents 50-47 to retain their title.
Abdullah Shah scored the game-high 16 points for the winners with assistance from Raja Jahanzeb, who added 14 points along with Sami Gilani who added 12 points.
For the losing side, Taimur Zaheer scored scored 12 points, Abbas Abid Qaim Khan and Usama Khalid added 10 points each but couldn't earn their team the title victory of the tournament.
Abbas Qaimkhani of Omega Club and Sami Gilani of the title winners were declared joint Man of the Match.
Later Col (R) Syed Baseer Ahmed, Sports Manager KPT, was the chief guest who witnessed the final winner being decided and at the end gave away trophies and individual prizes to high achievers.
Karachi Basketball Association (KBBA) President, Ghulam Muhammad, KBBA in collaboration with Essa Laboratories and Diagnostic Center jointly organized, Essa Laboratories Basketball Tournament into its fourth successful edition, where a total of 12 teams battled it out to earn the title of this tournament.
Tariq Hussain was the Organizing Secretary of the event while Muhammad Arshad acted as the Media Coordinator.