National Judokas add further medals to Pakistan's tally of South Asian Games 2019
Pakistani Judo athletes: Shah, Hamid, Qaiser, Karamat, Humaira, Amina and Hasnain snared Gold, Silver and Bronze medals in the 13th South Asian Games which successfully concluded today in Nepal.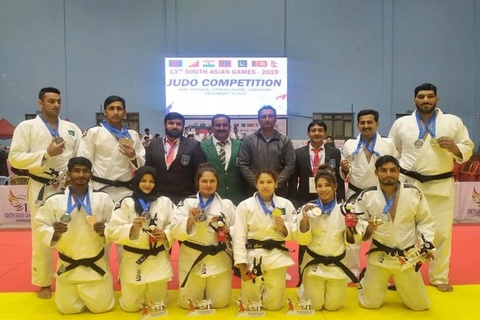 13th South Asian Games (SAG)
Kathmandu, Nepal.
Tokyo-based Pakistani Judoka, Shah Hussain Shah and Hamid Ali snared gold medals in -100 and +100 KG weight categories of the competition.
Fights for both athletes were held under league system where they both defeated their opponents from Bangladesh, Nepal, Sri Lanka and India on their way to earning golds for their country.
Judoka, Qaiser Khan (90 KG) and Karamat Butt (-81 KG) settled for silver medals while Beenish Khan (+78 KG), Humaira Ashiq, Amina Toyoda and Mohammad Hasnain managed to claim bronze medals in their respective weight categories.
So far Pakistan has grabbed two gold, two silver and four bronze medals in individual judo competitions at 13th SAG.
Pakistan swimmers also added to Pakistan's medal tally when Bisma Khan claimed silver in 200m individual medley while Pakistan's men swimming team, featuring Haseeb Tariq, Yahya Khan, Zeeshan Akbar and Mohammad Babar, settled for bronze in 4x200m freestyle relay competitions.

In 4x100m medley, Pakistan's Haseeb Tariq, Azghar Abbas, Yahya Khan and Mehrwan Patel grabbed another bronze medal.
Country's experienced boxer, Sanaullah lost in the 91 KG final to India's Chauhan Goruove, settling for silver medal while Pakistan's promising boxer Mohammad Asif (52 KG) and Gul Zeb (69 KG) are to play their respective finals today.
Asif will meet Sparsh Kumar and Gul will take on Krishan Vikas in the finals.
Pakistan has already claimed five bronze medals besides Sanaullah's silver medal in boxing event.
Pakistan also took bronze in
Men's Kabaddi
and
Beach Volleyball
competitions.