Arshad Nadeem's record-breaking throw helps win SAG Gold, qualification for 2020 Olympics
Khanewal-born prime Jevelin thrower Arshad Nadeem qualified for 2020 Olympics by raising the Green flag with the first position in the ongoing South Asian Games 2019 in Kathmandu, Nepal.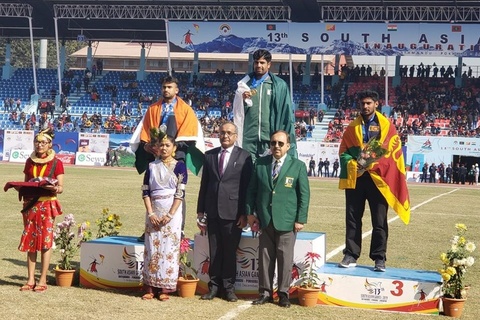 South Asian Games 2019
Kathmandu and Pokhara
Pakistan's flag raised high on first position of Javelin throw event after Khanewal born dominant Javelin thrower Arshad Nadeem won Gold medal in the ongoing South Asian Games (SAG) in Kathmandu, Nepal.
The 22-year-old bronze medalist at the 2018 Asian Games, Arshad managed a stunning 86.29m throw to not only better his own national record of 83.65m which he had set during the 33rd National Games in Peshawar last month but also smashed South Asian Games record of 82.23m which was made by his close rival Neeraj Chopra of India during the 2016 South Asian Games in Guwahati, India.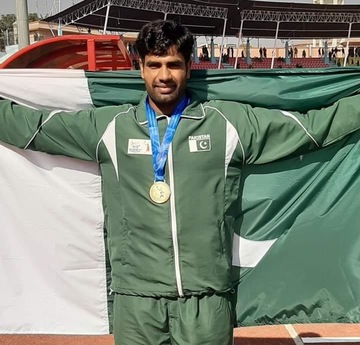 The record-breaking throw has also ensured his qualification for Tokyo Olympics as he met the minimum entry standard of 85m throw for the men's competition.
Arshad was followed by India's Shivpal Singh, who earned silver with an 84.16m throw. Sri Lanka's Sumedha Jagath (74.97 metres) finished third to claim bronze medal.
The javelin-thrower said that he was delighted to achieve the milestone.

"I'm very excited that my hard work has finally paid off. I have made the longest-ever throw by a Pakistani and I'm very hopeful of winning a medal In Tokyo Olympics," Arshad said.
"I'm thankful to Athletics Federation of Pakistan who provided and arranged training for me," he further added.
Secretary IPC, Mr Akber Durrani presented Gold medal to Arshad Nadeem in 13th South Asian Games 2019.