Bahria College comes in clutch to earn Commissioner Karachi Cup Girls Basketball Tournament 2019 title
Bahria College etched their name on the title of Commissioner Karachi Cup Girls Basketball Tournament 2019 by convincingly defeating The City School PAF Chapter in the final match at Karachi Gymkhana.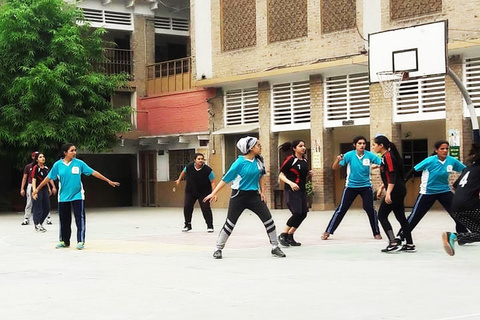 The grand finale of Commissioner Karachi Cup Girls Basketball Tournament 2019 that took place at the basketball court of Karachi Gymkhana saw a clash between Bahria College and The City School PAF Chapter where the girls from Bahria College convincingly grabbed the victory with the final score line of 32-24.
The stunning win for Bahria College left their opponents scratching their heads at the drop in their performance when it mattered the most compared to their lustrous displays throughout the tournament.
The top scores for the winning team stood: Anosha who scored the team high 12 points with assistance from Hira, who managed to add 10 points along side Aimen Shahid, who contributed with 10 points as well.
While from the losing side, Laiba and Maryam were the top scorer with their 16 and 08 successful scoring attempts.
Anosha of Bahria College was declared 'Girl of the Tournament' while Laiba of The City School PAF Chapter was named 'Girl of the Final match.'
The honorable chief guest to witness the final game was Mr Iftikhar Shalwani, Commissioner Karachi along with KBBA President, Ghulam Muhammad, KG Sports Committee Chairperson, Parveen Meemwala, PTF Vice President, Khalid Jameel Shamsi, Assistant Commissioner Civil Lines, Fatima Bashir and other sports officials, who together gave away several trophies and prizes to high achievers of the match and the tournament.
Commissioner Karachi shared his view saying,
"Our girls are as much capable as our boys to win laurels for the country. I am delighted to see their fine performance here and I am greatly thankful of Sindh Spots Board and Secretary Sports Sindh, Imtiaz Ali Shah for supporting and sponsoring the event and also laud the services of Karachi Gymkhana for promotion of sports in the metropolis."
This basketball tournament was organized by Firdaus Ittehad in collaboration with Karachi Basketball Association (KBBA) and supported by SSB.