Army racing towards 33rd National games title
Pakistan Army squad is racing towards winning the title of 33rd National games after adding more medals to their Gold medal tally in the penultimate day of the competition.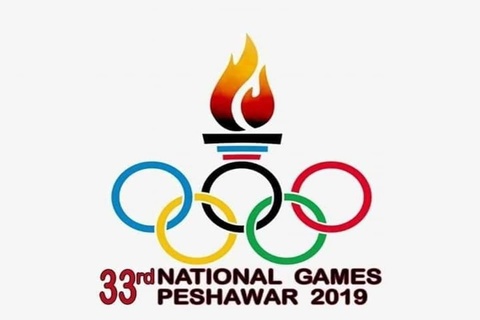 33rd National Games 2019 Peshawar
Different venues of Khyber Pakhtunkhwa
Pakistan Army is racing towards victory in the 33rd National Games for the 24th consecutive time collecting 140 Gold 116 Silver and 76 Bronze medals thus far.
Wapda sits at second spot with 126 Gold , 86 Silver and 63 Bronze medals.
Pakistan Army won the overall athletics trophy with 870 points, followed by WAPDA with 828 and Pakistan Air Force 85 remained at third with Khyber Pakhtunkhwa finishing with 76 points and fourth position.

Maria Maratab was adjudged the best athlete of the 33rd National Games. Maria Maratab of Army with her four gold medals and a bronze become the top athlete who also broke the record of 19-year-old record of Olympian Shabana Akhtar in Heptathlon.
In athletics, Pakistan Army won 19 Gold medals, 21 Silver and 19 Bronze medals with 6 Golds, 7 Silver and 11 Bronze in the women's events and 13 Gold, 14 Silver and 7 Bronze medals in the Men's events.
WAPDA took second position on points with 22 Gold, 19 Silver and 11 Bronze medals. In the women's events WAPDA won 14 Gold medals, 13 Silver medals and 3 Bronze medals and in the Men's events WAPDA secured 8 Gold medals, 6 Silver medals and 8 Bronze medals.
Pakistan Air Force took third position with one Gold, one Silver and four Bronze medals, followed Khyber Pakhtunkhwa with 1 Silver medal and 4 Bronze medals.
In the gymnastics Pakistan Army team won first position with 280.20 points, WAPDA got second position with 266.4 and Pakistan Railways won third position with 204.
Muhammad Afzal of WAPDA secured 72.55 points and was declared the best gymnast of the 33rd national games.
In the total six events, Army claimed 4 Gold medals and 2 Silvers, WAPDA took 2 Gold medals and 4 Silver. Pakistan Railways won 3 Bronze medals.
WAPDA proved their dominance in the event and won 5 Gold, 4 Silver and 1 Bronze medal while Army won 1 Gold, 4 Silver and 4 Bronze medals.
Khyber Pakhtunkhwa won a Gold medal and one Bronze and got third position.
WAPDA and Air Force entered the final of Men's volleyball event.
In the women's event Pakistan Army's team stunned WAPDA by 3-0 in the final to end their 16 year long dominance of the event.
Chairman Pakistan Volleyball Federation Chaudhry Muhammad Yaqoob was the chief guest on the occasion.