Army claims 93 Gold, 72 silver, 43 bronze in 33rd National Games
Najma Parveen of Pakistan WAPDA and Maria Maratab of Pakistan Army raised out as the admirable athletes as they claimed more than one gold medal at the ongoing 33rd National Games which are in progress at different venues here.
33rd National Games 2019 Peshawar
Different venues of Khyber Pakhtunkhwa
Najma Parveen of Pakistan WAPDA and Maria Maratab of Pakistan Army raised out as the admirable athletes as they claimed more than one gold medal at the ongoing 33rd National Games which are in progress at different venues here.
Najma Parveen has emerged as the most outstanding athlete of the Games, having so far won four individual gold medals and one gold medal in the 4X400m relay while parting with Masarat Shaheen, Rabia Ashiq and Asra.
In the overall position, Army is leading with 93 gold medals, 72 silver medals and 43 bronze while WAPDA is placed second with 72 gold, 58 silver and 48 bronze medals. Navy is placed third with 12 gold medals and four silver and three bronze, HEC and PAF with one gold medals.
Athletics
:
Najma had got off to a flying start in the Games when she had won her first gold medal in 400m race with an impressive time of 53.63sec which was a new record in the National Games. After winning her first gold medal, she was unstoppable and continued her winning spree in athletics competitions. The promising athlete then won a second gold in the 100m race and became the fastest athlete of the Games by clocking 11.87sec. She also earned another gold medal in the 400m hurdles race at the Peshawar Sports Complex, clocking 1:01.27seconds.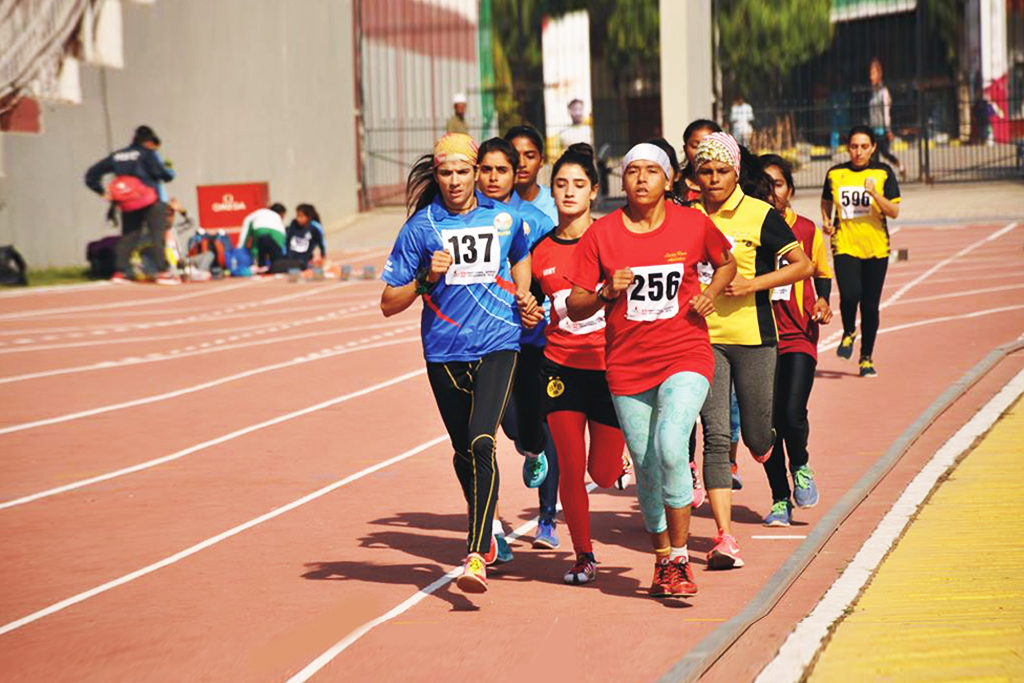 Najma, along with her co-athletes Musarrat Shaheen, Rabia and Asra, won a gold in the 4x400M relay, making her the only player of the National Games to win three gold in individual and one gold in team event. She also created another record in the 200m by winning the gold medal in a record time of 23.86sec by breaking the old record of 24.36sec created by Army's Sadaf Saddique.
Maria Maratab of Army, with her three gold medals and a bronze, became the second athlete to win more than one gold medals in the event. She won her first gold medal in the triple jump by covering a distance of 12.25m which is a new record in the National Games. She secured the second gold medal in the long jump by covering a distance of 5.8m. But she failed to clinch a gold in the high jump and finished third by grabbing a bronze medal in the event. She also won another gold medal in the 200m heptathlon.
Nadeem Hassan of Army won the 42-kilometre marathon event at Swat Motorway crossing in Mardan district.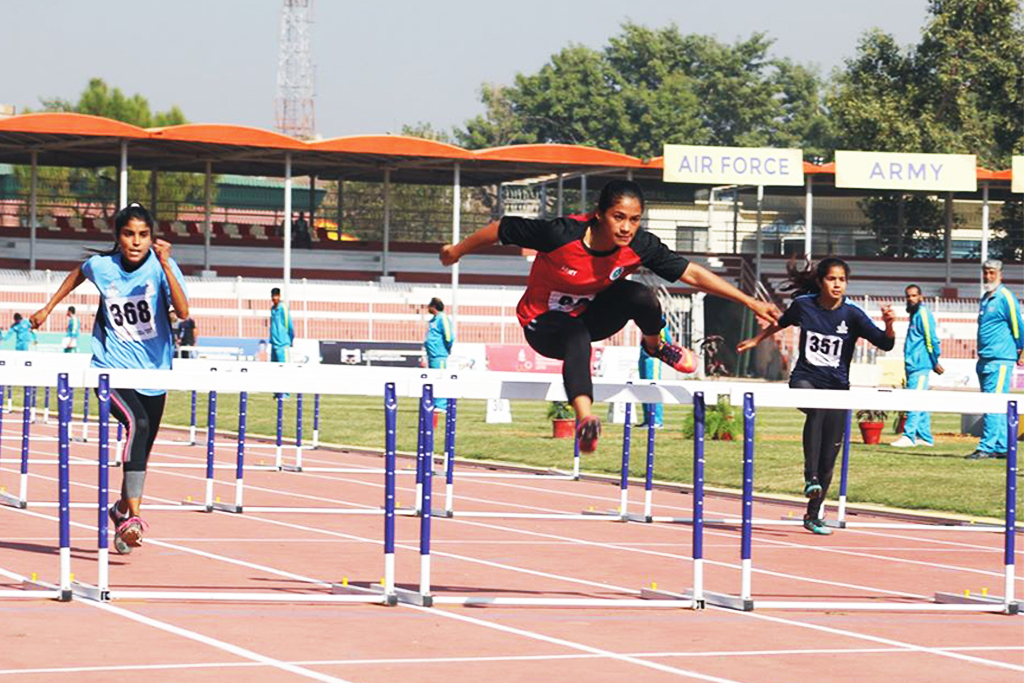 The race was organised near the archaeological Gandhara Civilization site in Jamal Ghari Mardan. Earlier the race was scheduled at Bus Rapid Transit Peshawar but the venue was changed just to highlight the archaeological site which is a cultural heritage.
The Jamal Ghari archaeological site has an ancient Buddhist monastery, considered as the most imposing relics of Buddhism in all of Gandhara.
Nadeem clocked 2.24.13sec to clinch the gold, followed by Punjab's Noshariwa Ashiq (2.29.15sec) and bronze winner Sher Khan (2.36.92sec) of WAPDA.
In the 200m mens race, Uzair Rehman of Army created a new national record by winning a gold medal. He broke the 19-years-old record of Muhammad Maqsood of Army (21.15sec) by creating a new record of winning in 21.06sec followed by runner-up Olympian Mehboob Ali and Umar Sadat of WAPDA.
In the 1500m race Rabia Ashaq of Army got a gold medal, followed by Rabeela Farooq and Farhat of WAPDA. In the 200m heptathlon Maria Maratab of Army bagged a gold medal followed by Mehan Imtiaz and Nabeela Kausar of Army.
A very talented athlete, Rabia completed her three gold medals when she bagged gold medal in 5000m, 10,000m and 1500m besides winning another gold in 4X400m relay.
In the overall athletics events, Pakistan Army grabbed 14 gold medal, 16 silver and 17 bronze medals at the end of the third day, securing 642 points, followed. Pakistan WAPDA with 19 gold medals, 16 silver and nine bronze medals with 658 points. HEC remained at third with one gold, one silver medal and one bronze and PAF got fourth with one gold, one silver and two bronze.
Kabaddi:
In the Kabaddi final, Army defeated Navy by 30-20 and clinched the gold medal and trophy after an exciting and thrilling competition, won the gold medal of Kabaddi competitions, Pakistan Navy won silver. Former Federal Minister Ghulam Ahmad Bilour and Pakistan Olympics Association President (R) Arif Hassan graced the occasion as guests. Army led in swimming event when bagged 10 gold, two silver, two bronze by securing 281 points. WAPDA got second with three gold, eight silver, five bronze and secured 212 points, Sindh is third with three silver, four bronze and 118 points. HEC has 21 points, but has not won any medal. Punjab got one bronze medal and 23 points. Navy got 47 points with one bronze medal.
Table Tennis:
In table tennis, WAPDA defeated Army to win the gold in the men's and women's team event. In the men's final, Mohammed Ramiz of WAPDA beat Salman of Army by 11-5, 11-7 and 11-6. Asim Qureshi beat Faizan Zahir and Bilal Yasin by 12-10, 11-7, 11-08. In the women's final, Shabnam Bilal of WAPDA defeated Army's Ayesha Fahim in the final by 11-5, 11-6, 11-03. Sanam Yasin beat Sana Muzaffar and Saadia beat Falak 3-0.
Body Building:
In body building event, WAPDA's Yasin won the title of Mr Pakistan title. The event was held in Mardan Sports Complex. Senior Sports Minister Mohammad Atif Khan was the chief guest on the occasion. WAPDA won eight gold medals in bodybuilding, securing 96 points while Army won two gold with 60 points. Railways secured third position with a silver, two bronze medals to collect 37 points.
Squash:
In squash, WAPDA beat Punjab by 2-0 in the final when Farhan Mehboob outplayed Tayyab Aslam 3-1, The scores were 3-11, 11-9, 11-3 and 11-4 while Danish Atlas beat Asim Khan by 3-1 8-11, 11-6, 11-5 and 12-10. In the women's final Army upset WAPDA by 2-0. Madina Zafar beat Komal by 3-1 with scores 7-11, 11-3, 11-5 and 11-4 while Amna Fayyaz beat Muqaddas Ashraf by 12-10, 13-11, 4-11, 11-9.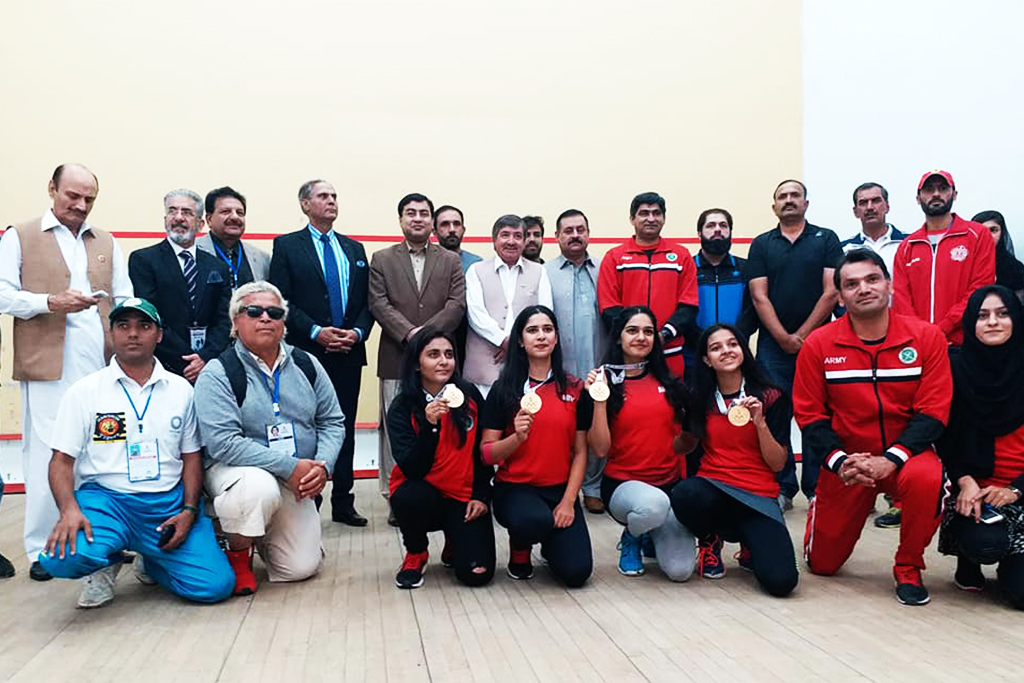 Throw-ball:
In women's throwball, Sindh will meet Gilgit Baltistan in the first semifinal while Culligan will take on KPK in the other semifinal after the four teams beat their respective rivals in the round matches to qualify for the semis on the third day.
In the round matches of women throwball held on the day, Sindh beat Baluchistan, 2-0, Culligan beat Punjab 2-0, Sindh beat KPK 2-0, Culligan beat Gilgit Baltistan 2-0, KPK beat Balochistan 2-0 while Gilgit Baltistan beat Punjab 2-0.
Swimming:
Army claimed top spot in swimming with 35 gold and 13 silver medals followed by WAPDA (five gold and 20 silver). Army swimmers Kiran Khan and Bisma Khan won 10 gold each. While Haseeb Tariq seized four golds for Army.