2012 world champion Mohammad Asif wins Jubilee Insurance Ranking Snooker Championship 2019
Top-seed Muhammad Asif triumphed over Muhammad Sajjad 7-4 in the final of the 3rd Jubilee Insurance Ranking Snooker Championship 2019 here at the Karachi Gymkhana.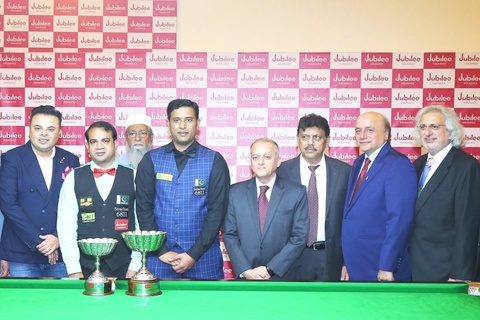 3rd Jubilee Insurance Ranking Snooker Championship 2019
Karachi Gymkhana
2012 world champion & top-seeded Muhammad Asif warmed up for having another go at the world crown by emerging triumphant against Muhammad Sajjad in the final of the 3rd Jubilee Insurance Ranking Snooker Championship 2019 here at the Karachi Gymkhana.
37-year-old Asif had a brisk start taking 2-0 lead by winning the first two frames 61-53, 64-62 by narrow margin. Sajjad, who scored a break of 62 in the second frame despite loss, came up with another break of 57 in the third as Asif was caught on the wrong foot 36-78, 13-89 to be tied two-all in the final.
Asif, 37, a native of Faisalabad, again surged 3-2 grabbing the fifth frame 83-27 only to lose the sixth 11-54 to be tied three-all.
Asif once again conceded the seventh frame 38-61, thanks to a break of 61 by Sajjad, to trail 3-4. That marked the end for the former world No 2 as Asif put his act together to win the next four frames in a row 69-49, 69-64, 55-13 and 68-14 to seal the fate.
Asif received a purse of Rs100,000 and winners trophy while Sajjad pocketed Rs40,000 and runner-up trophy from Jubilee Insurance managing director Tahir Ahmed at the presentation that followed the final.
Final scores were 61-53, 64-62,36-78, 13-89, 83-27, 11-54, 38-61, 69-49, 69-64, 55-13, 68-14.
Trailing 3-4 in the best of 13 final and down by 48 points in the eighth frame, seasoned cueist and top seed Mohammad Asif staged a remarkable comeback to post a 7-4 victory over equally competent Mohammad Sajjad to win the championship.
"Sajad missed a red ball at the center pocket in the eighth frame that proved to be a turning point and changed the complexion of the match," a jubilant Asif said after the victory.
Paying compliments to his opponent he said Sajjad has made a comeback on the circuit after a bad patch and added the match could have gone either way had the latter availed his chances.
"We've met three times in the final and luckily I'd won on all the occasions the last time being in the seventh NBP Cup in 2015, he added.
It is pertinent to mention that both the finalists belonged to group A and Asif had defeated Sajjad 4-2 in the league match. Sajjad was satisfied with his performance in the event and the final and attributed it to hard work and using a new branded cue which he had purchase for
Rs112,000
.
While Asif has retained his No 1 ranking by virtue of winning back-to-back ranking events the NBP Cup and the third ranking Bilal has leaped two places to attain second spot in place of Zulfiqar who has slipped to 10th position.

Asjad has also retained his third position while Sajjad has occupied fourth place in the latest ranking that will be officially released later.
The highest break award of
Rs5,000
was earned by former world junior champion Mohammad Naseem Akhtar for his feat of 134.
The ceremony was attended among others by the PBSF hierarchy Munawwar Hussain Shaikh, ex-president Alamgir Shaikh, PBSF secretary Zulfiqar Ali Ramzi and president Karachi Gymkhana Fawad Malik.